In One Night with the Army Doc by Traci Douglass, with her family Dr. Molly Quinn has never felt good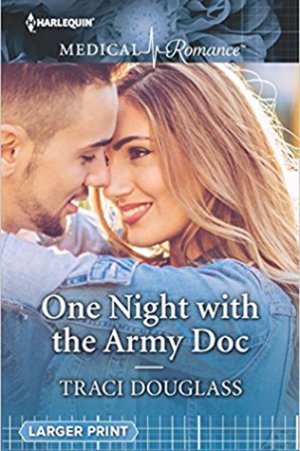 enough. So, travelling the world and filming the latest episode of her TV show is the perfect way to avoid feeling like she's falling short of their expectations, especially that of her father. However, when she clashes with Dr. Jacob Ryder – a man that loves his privacy and wants nothing to do with being filmed for her show – she finds she may have met her match, especially when he has just as much invested in her patient's care as she does. Will Jacob be able to work his way past Molly's high walls to show her that he's the one for her or will the pair walk away from their shot at happy ever after?
"Her eyes stung again. "He broke up with me. By text message." She shook her head. "How pathetic does that make me?"
Jake gave her fingers a reassuring squeeze. "He's the pathetic one – not you."
"My family might say otherwise."
"The more I learn about your family, the more I'm starting to believe they're a bunch of idiots."
I always looked forward to reading new-to-me authors, especially when it comes to the Harlequin medical romance line, and I've got to say that Ms. Douglass has delivered an absolutely engaging and unputdownable read in this book because of the main characters back stories, which were full of heartache and had me sympathizing with both the hero and heroine; the medical emergencies these two face that had me worried that these two exceptional doctors might not be able to save everyone; and the dialogue was compelling and drew me into the story immediately because of what the hero is facing. However, it was from the moment the hero and heroine come face-to-face for the first time where things get really interesting, as they start off on the wrong foot, but I liked how their relationship progressed into mutual respect and then love.
With the dialogue, it was intense due to the main characters back stories, the medical emergencies they have to handle and the obstacles these two need to overcome to be together. Including whether the heroine will be able to give the hero a chance and whether the heroine will finally stand up to her family, especially since the hero is determined to protect her from her father's arrogance and belittling. Furthermore, the heroine is intelligent, driven, successful, a challenge for the hero and I liked that she didn't let the toughest of moments beat her. Since she finally has someone that sees her for her instead of always thinking she can be more. I also liked the decisions the heroine makes throughout this story because it shows she has courage, is resilient and isn't about to let anyone make her feel she's not good enough anymore. Yet, what I liked most of all about the heroine is that she says whatever is on her mind.
"Martha would have an orgasm and die in here," Molly said, unable to stop herself. Too late. "I'm so sorry. I didn't mean that the way it sounded." Fresh heat prickled her cheeks. "What I meant was my sister loves to cook and would really enjoy such a well-appointed kitchen."
"I understand." Sara burst out laughing. "As a fellow foodie, rest assured I had the same reaction my first time too. I think you and I will get along just fine."
Molly smiled back, her usual awkwardness disappearing with Sara's genuine friendliness. "I hope so. I tend to rub people up the wrong way sometimes."
"Really? Why?"
"When I get overly stressed or nervous I recite off facts." Just one more thing her father had made her feel bad about. "Or I say snarky, strange things."
While the hero, it's understandable why he likes his privacy after everything he went through in his past and his ex choosing her career over him. However, I liked that he took a chance on the heroine because they're good together and he sees the real her and wouldn't change her for anything. I also liked the close friendship the hero had with their patient and that he would do anything to save his friend, even if it means challenging and pushing the heroine every step of the way, despite the fact that she's a brilliant diagnostician and has done impressive work on her show in the past. Then again, he and his friend have been through so much together, so I could understand why he's always pushing Molly to get to the bottom of what's happening to their patient. No way could he lose one of his closest friends.
Overall, Ms. Douglass has delivered a wonderful medical romance in this book where the chemistry between this couple was powerful; the romance was nicely-detailed and had me loving the special connection these two have because it's palpable he sees the real her; and the ending had me loving the heroine's decision to fight for her chance with the hero because she deserves the love and happiness she's found with Jacob after always feeling like she isn't good enough her whole life. Yet, what I liked most of all about the ending was the surprise the hero had for the heroine and the cute nickname he also has for her. I would recommend One Night with the Army Doc by Traci Douglass, if you enjoy medical romances, the enemy to lovers trope or books by authors Lucy Ryder, Meredith Webber, Dianne Drake and Sue Mackay.
Book Info:

Publication: August 1st, 2018 | Harlequin Medical |
Is one night enough…to convince her to stay?
Travelling to Alaska to film the latest episode of her TV show is just what brilliant diagnostician Dr Molly Flynn needs. It's the perfect escape from her family's expectations…until she clashes with privacy-loving ex-army doc Jacob Ryder over her patient's care! Only as friction turns into flirtation, can Molly trust that Jake sees the real her and loves her – just the way she is?