Have My Baby by Taryn Quinn: Aly has always been a devoted daughter, which meant growing up quickly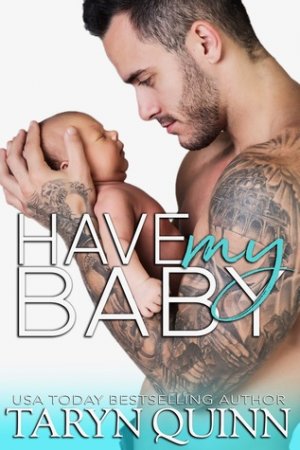 and staying in town to help take care of her mom. She doesn't regret the choices she's made, but she yearns to see the world outside of the small town where she's grown up. She's caring, generous, selfless, and struggling to make her dreams come true.
Seth is sexy, charming, and totally devoted to his little girl. He was quite the playboy until the unexpected arrival of his daughter. With one disastrous marriage behind him, he's not looking for a relationship but he does want another child.
Aly and Seth have been best friends for years. They are as close as any two people can be and she's been invaluable in helping him to navigate parenthood. They have firmly been in the friend-zone until Seth drops a bombshell in her lap: he wants Aly to have his baby.
"You. Having my baby."
Golden brown eyes settled on mine as a smile toyed with her mouth. "You missed April Fool's day by a mile, dude."
"This isn't a joke. There's no hidden camera. This is just me, your best friend coming to you with a simple request."
Since Aly has been in love with him since forever, this is complicated. She's always felt the chemistry between them, but acting on it is both her greatest dream and biggest fear. Seth is surprised by how much he wants Aly to go along with his plan. Agreeing to this plan allows for both to act on their chemistry, but it all feels very real.
"I just might."
I looped her legs around my waist and kept on walking. "Well, then I'm just going to have to convince you."
She giggled. "Put me down, you idiot."
"And let you run again? I think not, lady."
Have My Baby is a very sexy rollercoaster. Taryn Elliot and Cari Quinn provide humor and heat with a unique twist on the planned pregnancy plot. Ms. Elliot and Ms. Quinn provide quite the cast of characters in an adorable little girl, their family, and friends. Fans of Lauren Blakely and Kendall Ryan will enjoy Have My Baby.

Book Info:

Publication: September 25th 2017 | Rainbow Rage Publishing | Dirty DILFs #1
Have my baby.
That was what my single dad best friend Seth said to me while I was waitressing at the diner.
His little girl wants a sibling. But Seth is a workaholic millionaire and doesn't have time to meet someone.
Someone who won't screw him over, like his kid's mother.
Only problem is this someone has secretly been in love with him since high school. I've been hiding it forever, not wanting to risk our friendship.
Sleeping with him is my biggest fantasy. And I've fantasized plenty, being a virgin. Another thing he doesn't know.
Now I have to make the biggest decision of my life.
Is having a no strings attached affair just to make a baby better than never having him at all?
Author's note: this case of insta-love and insta-naked-time has been brewing for over a decade. Babymaking has never been so hot…or so funny…or so complicated.
Author's Note part deux: Have My Baby is a standalone rom com with a romantic HEA ending and no cliffhanger.