A Surprise for the Sheikh by Sarah M. Anderson: When you live in the past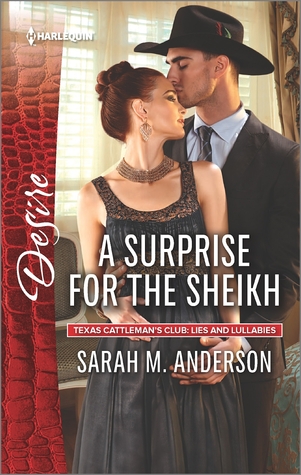 for so long it can take over your being and you can have problems seeing what is going on right in front of you.
Violet McCallum knew when her parents died that her life had changed forever but the problem now was she couldn't figure out how to make her brother understand that she had grown up and was a big girl now. So one night she went out to have a night on the town and just be at peace. She had no idea what would come of that one night though.
Rafiq bin Saleed had been planning revenge on his so called best friend for years now. How dare he take advantage of his sister? At this point he didn't care about the why's he cared about revenge and making him pay, he was willing to spend whatever he had to make it happen. Then he met a girl and he had two plans, revenge and finding her.
When Violet and Rafe discover each others real identities neither one of them could have dreamed of the places that they would discover together. But when secrets come out will the past overtake their future?
WOW. Ms. Anderson has given her readers a FANTASTIC conclusion to the Samson Oil question. This story is a part of a series but great on it's own as well. The charters are so likeable and the emotional turmoil that both the hero and the heroine go through is so powerful it's honestly just amazing. This book is going to pull you in many directions and at the end you may feel like you've been through the ringer, but it is well worth the ride.
Book Info:

Published: April 5th 2016 | Harlequin Desire |
One night with a sheikh leads to a secret baby surprise!
Billionaire sheikh Rafiq "Rafe" bin Saleed has come to Royal, Texas, to buy the town—and get even with his former best friend. But Rafe's plans are pushed aside for one amazing night with a stranger—and then nearly derailed when he discovers the identity of his mystery woman. For not only is Violet McCallum his enemy's cherished little sister, she's now pregnant with Rafe's child! Rafe knows he has the upper hand; all he has to do is walk away. But there's something about Violet that won't let him leave without her…