A Tale Of Two Christmas Letters (Texas Legends: The McCabes) by Cathy Gillen Thacker is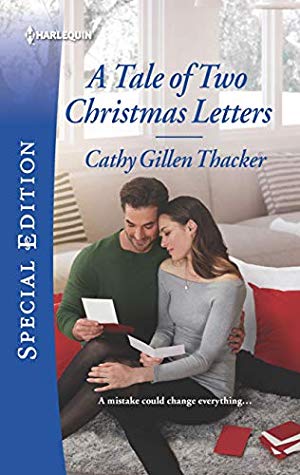 an interesting romance story.
Rehab nurse Bess Monroe is feeling a little grumpy. It's that time of year – Thanksgiving and Christmas time. It's a very busy time of year. That doesn't excuse Bess' big mess-up. She never liked having to write the yearly Christmas newletter her nursing school graduating class had as their tradition.
So grumpy Bess wrote two letters, one rather grinchy and just a tad bit negative and the other very falsely over-cheerful which was far from the truth as well. She didn't plan to send either letter out but the drafts she had saved on her computer just somehow got sent when she turned on her computer. Her friend, surgeon and widower, Jack McCabe confronted her with the letters and Bess confessed to her unhappy state of mind. Jack knew he needed to step up to the plate and hit a homer of a solution to Bess' unhappiness since making Bess happy was very important to him. Game on!
I like the friends to lovers to a HEA genre and this story fits that quite well. Add in three delightful little girls, lots of family love and matchmaking, and two lovely Golden Retriver puppies and you have the fun romance in the story as well as sweet Christmas spirit and homey contentment. There's lots of hot, sexy times as well. I enjoyed the pace of this story. Bess and Jack fought the inevitable outcome and came to understand their feelings in a realistic timeframe. As I finished this book I felt more than satisfied and that's a good way to feel at the end of a book.
Book Info:

Publication: December 1st 2019 | Harlequin Special Edition | Texas Legends: The McCabes Book 2735
Will a single dad and three little girls fulfill her secret Christmas wish?
Rehab nurse Bess Monroe is mortified that she accidentally sent the wrong Christmas letter to her boss! And so now Jack McCabe, widowed surgeon and father of three little girls, offers his friendship to get through the holidays. But their pact soon turns into something more. Can a woman who's been burned by love open her heart to Jack for the holidays—and maybe forever?