In A Touch of Flame (The Cowboys of Colorado #2) by Jo Goodman, Frost Falls sheriff Ben Madison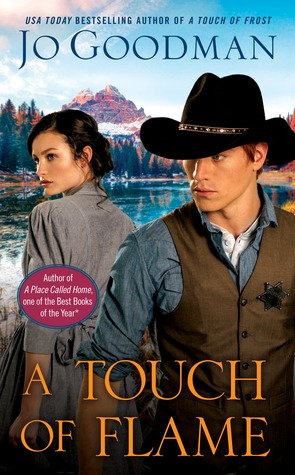 has surely been up against some challenges in his time. But when he somehow finds himself being the welcome wagon to the town's new doctor–a woman, no less–he knows he has his work cut out for him. The people of of Frost Falls are already not happy to lose their long time physician. So the fact that pretty as a picture Dr. E. Ridley Woodhouse is new to Colorado and to practicing medicine on her own, well, that could spell trouble. Sure enough, locals are not keen on being treated by her, no matter her skills or compassion. Ben sets out to show them that Ridley can not only be trusted, but that she will make a fine addition to the community. She also becomes a promising part of his everyday life. Something Ben cherishes and hopes to continue for as long as Ridley will tolerate his incessant teasing and playful ways.
"You overwhelm me, Ridley. That's what you do, and if it seems as if I am amused, it's because that's all that's left to me when you take away every other sense, especially the common one."
Ridley knew moving to Colorado would be a huge change after living her whole life near big cities on the Eastern coastline. But she had no idea the level of distrust or, in some cases, outright prejudice she would face in Frost Falls. The one positive in her life here? Ridley's growing friendship with the town's new sheriff, Ben. Handsome, devilish, courageous, and having a heart of gold, he gets under her skin in ways no man ever has before. And while she wouldn't mind further developing a relationship with Ben, Ridley knows she also needs to prove her independence and her own worth to the locals. All it takes is one outspoken town drunk, though, and she finds herself looking over her shoulder after his convincing threats. Ben of course is there to watch out for her, but Ridley intends to show him she can take care of herself and the others who are helpless against Jeremiah's anger.
'Ridley recognized how securely he held her with a quirky smile and mischief in his startling blue eyes. A rascal lived inside there, and she loved him.'
A Touch of Flame had all of the rapid fire dialogue, lovable characters, and rich details that I've come to expect out of Jo Goodman's wonderful writing. Set in the small community of Frost Falls, Colorado, I adored the unlikely romance between their new female physician and the town's mischievous sheriff.
'He hadn't known her twenty-four hours, and he'd caught hell from her for most of the ones that he had.'
Over the past few years, Jo Goodman has become one of my go-to authors for Western historical romances. There's just SO much to love about her work. From the carefully crafted characters to the lively conversations and the plots that include a bit of mystery and/or action, I know I'm pretty much guaranteed a great time. I will admit that I was concerned when I started this book, though, after reading about our hero Ben in book one. He didn't quite handle things too well. But I am happy to say that he not only redeemed himself, he became one of my favorite heroes (so far) in Goodman's books. Ben was quick-witted, loved to tease and was absolutely charming. I fell head over heels for the sheriff and thought he turned out to be a kind-hearted guy who really did have his town's best interests at heart. No wonder new-to-town Ridley couldn't help but fall for him!
As far as the town's new doctor, Ridley, was concerned, it took me a little while to figure out where she was coming from. She seemed rather standoffish at times and was a bit awkward with the townspeople and Ben. But learning about her childhood and her painful family life, I came to truly respect her. Ridley went through quite a lot, both as a woman and as a physician in Frost Falls and sadly she wasn't treated very well by the locals for some time. It was nice to see Ben pave the way for her, trying to talk up her skills as a doctor and get people to trust in her little by little. Ridley had a wonderful way of being flat out honest with her patients while still respecting their wishes and being a calming presence for them. Ben was wowed by her ability to help others and I loved watching them fall for each other, playfully arguing and finding excuses to spend time together.
What a perfect–and perfectly memorable–couple Ben and Ridley turned out to be in A Touch of Flame. I think Western historical fans will fall easily for all the characters in this romance and will be looking forward to what Jo Goodman has in store for us next.
Book Info:

Publication: Published June 5th 2018 | Berkley | The Cowboys of Colorado #2
USA Today bestselling author Jo Goodman returns to the gunslinging outlands of A Touch of Frost with a sizzling new romance where the new town doctor learns there's nothing she likes better than a run-in with the law.
Dr. E. Ridley Woodhouse is like no physician Ben Madison has ever met—she's a woman. As the newly elected sheriff of Frost Falls, Colorado, Ben is tasked with welcoming Ridley to the community. But while Ben might be tempted by the new doc's charms, getting the town to accept a big-city, female doctor is no easy feat. To earn their trust she'll have to prove herself and Ben determines to help her…even if she's the most stubborn woman he's ever met.
When the husband of one of Ridley's patients threatens her, forbidding Ridley from treating his wife or children, all of Ben's protective instincts kick in. Ridley has come to rely on Ben's steady presence and the delicious tension that simmers just below the surface of their easy friendship—but as much as she trusts that his warnings to steer clear of Jeremiah Salt are sincere, she's never been one to back down from a challenge and she refuses to abandon her patient.
But sticking to your guns can earn you trouble in the rough terrain of the Wild West, and danger threatens Ridley from unexpected places, forcing Ben to confront his deepest fear in order to save the woman he loves.