In Back in Dr. Xenakis' Arms (Hot Greek Docs #3) by Amalie Berlin, Dr. Erianthe 'Eri'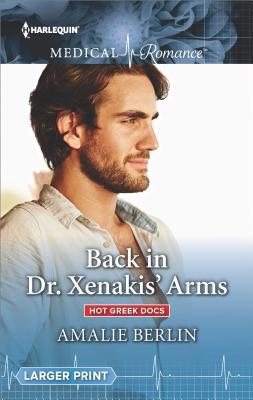 Nikolaides has returned home to help out after a devastating earthquake hit Mythelios, but running into her ex Dr. Ares Xenakis is the last thing she wants to do, especially since he's a painful reminder of all that she's lost. However, there's no way she can avoid him when they'll be working together in the clinic he and three friends own. Will Ares be able to win the love of his life back or will they lose their second chance at happy ever after?
"If I could turn this feeling off, I would."
"How do you deal with your parents?"
"I don't. I haven't spoken to either of them since I became an adult."
"At all?"
She shook her head. "I stayed away. Changed my number. Ignored emails. Sent back letters and deliveries. I never came back. Not even once."
"Since you left home?"
This was such an emotionally-charged story, which I loved from start to finish, as the hero and heroine have painful history and coming back to Mythelios is hard for Eri because it's a painful reminder of all that she's lost. It's also a wonderfully-crafted tale of second chances, healing and overcoming tough obstacles including family objections to be together that had me hooked from the prologue. Will Eri ever be able to forgive Ares for what she saw as a betrayal in the past? However, it was from the moment the hero and heroine come face-to-face for the first time that had me sympathizing with both the main characters, as it isn't easy for either to be around the other since Ares knows he hurt Eri badly years ago, and yet, there's still so much chemistry between them.
As for the dialogue, it was intense due to the main characters back stories, the medical emergencies these two face and everything they go through on their journey to happy ever after including family drama that Eri isn't ready to face. Will she ever be ready to face her parents and hash things out? Moreover, the heroine is strong and brave when it comes to finally returning to Mythelios and facing her past. I also liked that she gave the hero another chance because she realizes that everything that happened wasn't completely his fault. They were too young to face everything they had to and it's better that they're finally at a place in their lives when they have a chance at fighting the forces determined to keep them apart.
While the hero, he's done well for himself in becoming a doctor. He's also confident, hard-working and I liked how determined he was to win the heroine over, even if he has to push her to talk to him because they have so much to talk about. Will he be able to convince Eri to forgive him for the past? I also liked how he finally stood up to the people that tried to keep him and Eri apart when they were younger because it finally shows Eri that he's on her side.
"I've always loved your eyes…ever since we were little. Before it could be explained by attraction," she murmured. And then images of the first time she'd realized Ares was different from the other boys rose in her mind and she amended that. "Well, probably before that."
"They're just green."
"From far away, they are. Up close, they're the color of a new leaf and, depending on the light, flecked with gold or amber. Mine are just black. Flat and black."
"They're not flat. They shine like obsidian and reflect everything."
Overall, Ms. Berlin has delivered a fantastic read in this book where the chemistry between this couple was as strong as it was in the past; the romance was delightful and had me loving that these two fight for their second chance, even though the odds are stacked against them; and the ending had me loving the decisions the hero and heroine make to be together. No way can Ares possibly think about leaving when Eri has always been the one he wants. However, it was the epilogue that wrapped this story up perfectly, as Eri and Ares finally have everything they should have had years ago – love, family and happiness. I would recommend Back in Dr. Xenakis' Arms by Amalie Berlin, if you enjoy the second chance romance trope, the brother's best friend trope, or books by authors Tina Beckett, Amy Ruttan, Annie O'Neil and Lucy Ryder.

Book Info:

Publication: June 18th, 2018 | Harlequin Medical | Hot Greek Docs #3
She can't resist the doc from her past! But do they have a future?
In this Hot Greek Docs story, obstetrician Erianthe Nikolaides is returning home to Mythelios and dreading seeing her sinfully hot ex, Dr. Ares Xenakis! She's still haunted by the devastating circumstances of their breakup. To truly heal she must share her pain with Ares, but when a scorching kiss reignites their desire, dare Eri risk her heart a second time?