A True Cowboy Christmas by Caitlin Crews is a sweet start to her new Cold River Ranch series, with a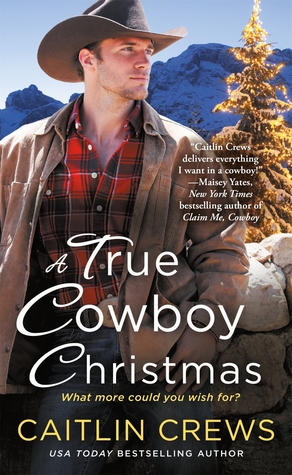 modern day marriage of convenience romance set during the fall and winter holidays in rural Colorado.
When Gray Everett's miserable, alcoholic father died, he left the Cold River Ranch to Gray and his two brothers, Brady and Ty. Unlike his brothers, Gray has no intention of leaving his home, and with the advent of his father's death, he takes stock of what is missing in his life and determines that he needs a partner. And who better to fill the role of wife and mother to his teenaged daughter than neighboring longtime resident Abby Douglas.
When Gray approaches Abby with a marriage of convenience offer, she's not sure if it's her long held dream or her worst nightmare coming to life. She's had a crush on Gray since she was young, but believed herself to be too plain, too ordinary, too practical to ever catch his eye. She's nothing like his former wife, a beautiful woman who died in a car accident. She'd dreamed of a proposal from Gray for years – but not like this, as a sensible business arrangement with no emotions attached. She knows it might be the only offer she'll ever get since she has no plans to leave the Longhorn Valley or stray too far from her elderly grandmother. Still, there's a spark of something that passes between them, a realization that their marriage bed might not be a cold place after all. Can they turn a practical solution into a lifetime of love?
I really enjoyed this story! The buildup of sexual tension between Gray and Abby starts from their first kiss at which point they both realize that there is an attraction between them that will serve them well in their marriage. This is disconcerting for Gray, who has no intention of falling in love after his previous marriage disaster and seeing his father go through wife after wife. He believes Abby will be a great partner but he makes it clear to Abby that love isn't part of the bargain. Abby on the other hand has dreamed of a life with Gray since childhood but it always included him being in love with her. Her friends try to counsel her on the wisdom of her decision to marry him because they know they she will be emotionally attached in no time. But Abby decides that taking what's on offer is better than nothing. And sex with Gray will clearly not be a problem.
As the two get closer physically, it becomes harder to keep their emotions in check. Abby has her own baggage from a mother who abandoned her at a young age yet keeps coming back to harp on Abby's self esteem with cruelly calculated comments. She's lived with her grandmother for years, and leaving her to move in with Gray is another adjustment she has to make. Plus, making friends with Gray's daughter is important to her and fraught with the girl's feelings about her father remarrying.
Gray's relationship with his brothers is an important part of the story. Brady and Ty have not shown any interest in the ranch before now and having their father leave it to all three equally is a bitter pill to swallow. Brady and Ty would like to sell the property but Gray is not interested. He was born here, he lives here and he plans to be buried in the family plot. Working through their issues, and Gray's fear of turning into a man like his father is a side story to the sweet and sexy romance that blossoms with Abby. If there's a flaw, it's that the author sometimes has a habit of meandering and repetitive introspection from her characters but it didn't detract from the overall story enjoyment for me. I highly recommend this lovely cowboy romance and look forward to more in the series!

Book Info:

Publication: Oct 30, 2018 | St. Martin's Press | Cold River Ranch #1
Gray Everett has a heart of gold but that doesn't mean he believes in the magic of Christmas. He's got plenty else to worry about this holiday season, what with keeping his cattle ranch in the family and out of the hands of hungry real-estate investors looking to make a down-and-dirty deal. That, plus being a parent to his young and motherless daughter, equals a man who will not rest until he achieves his mission. Now, all Gray needs is the help of his lifelong neighbor. . .who happens to have grown into a lovely, spirited woman.
For Abby Douglas, the chance to join forces with Gray is nothing less than a Christmas miracle. Much as the down-to-earth farmer's daughter has tried to deny it, Abby's been in love with stern, smoking-hot Gray her whole life. So when Gray proposes a marriage of convenience as a way to combine land–and work together toward a common cause—Abby can't refuse. But how can she convince Gray that sometimes life offers a man a second chance for a reason. . .and that their growing trust and mutual passion may be leading to true and lasting love?