A Very Merry Match by Melinda Curtis: Mary Margaret Sneed has been a widow for one year. Her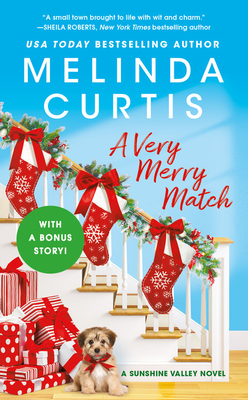 husband left her with lots of debt after he went on a spending spree before his death from cancer. She thinks she is almost on top of it when two men show up and show her she still owes a sizable debt. She knows there is no way she can pay them on the schedule they want with her kindergarten teacher's salary and no life insurance. She decides to go incognito and do burlesque routines at club in the next town. She worked her way through college doing that and the tips were really big.
Kevin Hadley is the mayor of Sunshine Valley and recently divorced. He shares custody with his ex-wife who still wants to be involved in his jump from mayor to a state political office. Kevin realizes that he needs someone new to settle down with to help with his ambitions to move ahead. Who better than Mary Margaret with her sweet image. Will her secret life ruin a budding romance?
The author slowly reveals the various life events that have shaped both Mary Margaret and Kevin. Their slow blooming romance is sweet and kind, even though it is fraught with a lot of roadblocks.
Mary Margaret's grandmother Edith was one of my favorite secondary characters. She adds comic relief to the story. She wants so bad to be on the board of the Sunshine Valley Widows Club. They are a group of mature ladies to try to do matchmaking for people who have been divorced or widowed for a year.
Tad, Kevin's young son adds the wonder and fun of childhood that we often forget, but can experience again with both our own children and grandchildren and others we may meet along the way.
I am a huge fan of small town stories and author Melinda Curtis is an expert at crafting the perfect ones. I had the pleasure of being a part of a Zoom event while I was reading this novel where she was one of the featured authors. Her warmth and humor surely shined through.
If you want to experience a small town Christmas, then A Very Merry Match is the perfect book for you.

Book Info:

Publication: September 29, 2020 | Forever | Sunshine Valley #2
Melinda Curtis brings the spice for the holidays with this small-town romance featuring a woman who must maintain a secret identity and the man who begins falling for her.
This holiday season, kindergarten teacher Mary Margaret Sneed never imagined she'd be unwrapping…herself. But a burlesque side gig is the young widow's only hope of paying off her late husband's substantial debt. With her reputation and career on the line, she performs in disguise, under the stage name Foxy Roxy. But her secret identity is threatened when Roxy's biggest fan turns out to be Mary Margaret's biggest crush — the handsome-as-sin mayor of Preston!
Newly divorced single dad Kevin Hadley is prepping to make the jump from mayor to state assemblyman. He knows he should be settling down with someone quiet and practical, someone like Mary Margaret Sneed. The last thing Kevin needs right now is a steamy scandal. But he just can't stop thinking about Foxy Roxy…and if Preston's matchmaking Widows Club has their way this Christmas, Kevin won't have to…