In Wicked Truths (Hunt Legacy Duology #2) by Jodi Ellen Malpas, Getting a job with the Hunt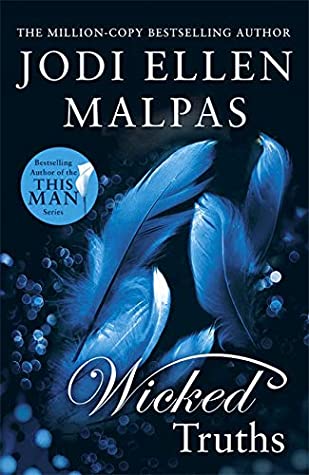 Corporation was a dream come true for art history lover Eleanor Cole. From the excitement of living in London to the thrill of seeing priceless works of art on the daily, she's felt like she's in her element from the start. Then there's Becker Hunt, himself. The head of the Hunt Corporation. Eleanor's boss. He's the most gorgeous, intelligent, confounding man she's ever met. And he knows it, too, with the way he leads her into bickering at every turn. It's when she uncovers some unexpected secrets about the man and his business, putting her in danger, that Eleanor decides she might not be meant for his world after all.
"I love you." His voice is barely a murmur, hardly heard.
But it's the loudest thing that anyone has ever said to me.
And the most significant.
Because Becker Hunt said it.
Time away usually gives Eleanor perspective on all things in her life. But nothing seems to help when it comes to Becker. She can't deny her heart is attached to the handsome devil. And when he reveals his true feelings–as well as some shocking truths about his life and family–Eleanor is willing to give things another go. But the adventure has just begun for them. From rivalries to deception, sweeping romance to trekking across the globe, their relationship will have many tests to get through. Eleanor can only hope she and Becker make it out the other side safe, sound, and deliriously in love.
'My mind can talk reason. It can tell me that I shouldn't trust him. My heart, however, will betray me. And so will my body.'
Hang on for a wild ride when you dive into Wicked Truths, Jodi Ellen Malpas's second and final book in the Hunt Legacy Duology. Thrilling plot twists and emotional upheaval did abound. But it was the passionate romance–and the Indiana Jones type adventure–that just blew me away!
"I'm in love with you, Eleanor," he vows tightly, reluctantly releasing my hand. He says nothing more, because he doesn't need to…
"I know you do," I say quietly. "But you can't seem to stop yourself from hiding your wicked truths from me."
I don't even know where to begin, so much happened in Wicked Truths. I guess I should start off saying that you will definitely need to read book one, Artful Lies, before beginning this one. It picks up right where we left off last time, after an ending that shook my faith in Becker's intentions for Eleanor. And in his character, overall. Something that intrigues me about Malpas's heroes, how they tend to be bad boys with (possibly) a good heart. Book two had me up and down on whether Becker could be trusted…still…but after the many, many curve balls Malpas threw at Eleanor (and us readers) I can say with conviction to not give up on Saint Becker. If for nothing else than to see everything through his POV in the epilogue. And oh what an ending it was!
Poor Eleanor went through so much in this finale to the duology. Her emotions were up and down, at the highest highs and lowest of the lows, from one situation to the next. But she was definitely the same badass as in book one. Eleanor kept her head (mostly), followed her heart and her instincts. Put Becker in his place more than once. And proved that she was a force to be reckoned with as much as her clever counterpart. Her love for Becker was a thing of wonder, though–as was his love for Eleanor–and it just pulled at my heartstrings. Like many of the other couples Malpas has created, truth be told.
Wicked Truths held me in its thrall from page one and didn't let go. At all. With bantering to die for, mile-a-minute action, numerous revelations, and a romance that will surely stand the test of time, Jodi Ellen Malpas created a masterpiece with her Hunt Legacy Duology.
Book Info:

Published November 12th 2020 | Pub: Jodi Ellen Malpas | Hunt Legacy Duology #2
The second book in the brand new duology by the Sunday Times and New York Times bestselling author of the This Man series
A desperate passion, a dangerous love story…
Eleanor Cole had no idea that when she met the charmingly irresistible Becker Hunt, she was putting her life on the line. So when she discovers his secrets, escape seems to be her only option – but Becker isn't ready to let Eleanor go.
She knows better than to fall into his corrupt world again, but how long can she resist when he's stolen her heart?
Eleanor must make a choice, to stay and follow Becker into the heart of the danger…or risk losing him forever!
Becker Hunt is back and this time he's not letting Eleanor walk away…