Jilted by sawyer Bennett: Finding out your new fiancé cheated on you, at your own home nonetheless, on the red carpet might cause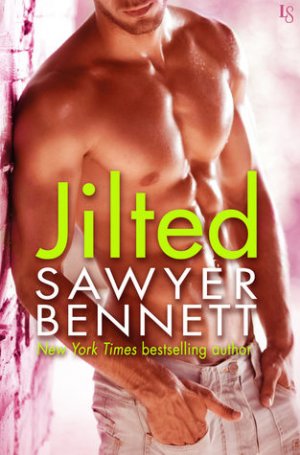 quite a bit of an angry shock, leading to words that shouldn't be said in front of the paparazzi. To escape the press and the now ex-fiance who's badmouthing her for what she said, Eden runs home to her small town to put the scandal behind her.
But not even her town is a safe haven anymore, not when they all think she's changed for the much worse. And when it turns out her home isn't just hers anymore, Eden doesn't know what to do. Coop, her high school sweetheart and the one she left when she made it big, inherited ownership of her family's home and is the one living there now.
Coop's long over Eden, but she's still the only girl he ever loved and seeing her down and broken just won't do. He becomes the one to stand up for her and soon enough they dive right back into bed with one another. But Cooper shuns forever and Eden will have to go back to her life soon enough, no matter that this is the first time she hasn't felt alone in years.
Jilted starts off with a bang, no doubt. It's a great first scene, but for me it just fell from there. My biggest issue was honestly the writing. It's a lot of the characters just telling me what's happening and about their lives and whatnot. It gets old quick and ends up boring me throughout the story. Also, how Coop talks, about women and his manwhore ways specifically, grossed me out a bit and I just had a difficult time finding him to be a hero.
I would definitely say the focus of this romance is sex. They immediately dive into that intimacy and through sex they find their bond again – not in the way of erotica though. They have a few deep conversations, which felt odd for people who don't know each other considering it's been fourteen years, but overall they focus on the physical attraction.
The one aspect I liked was the portrayal of Eden and fame and her arc of dealing with it. It's what I could sympathize with and what made her feel real. That is what I had to root for her with. Even though the second in a series, Jilted can be read as a standalone.

Book Info:

Publication: July 11, 2017 | Loveswept | Love Hurts #2
Hollywood hath no fury like a woman scorned. In this fun, flirty second-chance romance from New York Times bestselling author Sawyer Bennett, an aspiring starlet reconnects with her first love.
Eden Goodnight went to Los Angeles to make it big, not to be publicly humiliated by her cheating fiancé at a red-carpet premiere. But when Eden returns to her hometown to put the scandal behind her, she can barely find a sympathetic shoulder to cry on. Turns out the locals are worse than the paparazzi, and they all think she's turned into a spoiled brat. But in a strange twist of fate, the one person who seems to understand what Eden's going through is Cooper Mayfield . . . the boy she left behind.
Small-town charm is no match for the glitz and glamour of Hollywood. At least that's what Coop's been telling himself all these years. As Eden's old flame—and the landscaper for her family's historic home—Coop feels some responsibility for getting her out of her funk. But as soon as he sees that million-dollar smile, he's a goner. Soon they're making out like teenagers again. But when a life-changing role falls into Eden's lap, Coop just hopes she doesn't give up on a love that's meant to be.