A Wedding One Christmas by Therese Beharrie: Angie is dreading her return home. She left pretty much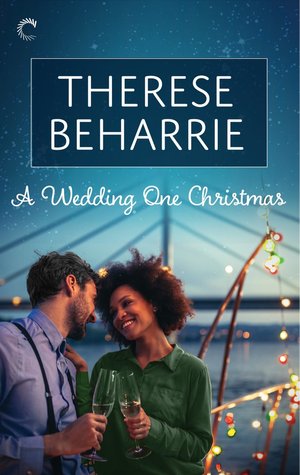 right after losing her father to avoid dealing with her and her family's grief. Years later, she's finally back as she is also ready to tackle writing a romance novel. She's smart, funny, feisty, and determined to be independent.
In a delay tactic, Angie stops in a small town that's held great memories for her family. She quickly figures this was a mistake, as she's mistaken as a bridesmaid by a number of wedding guests. She ropes in the unsuspecting Ezra to save her and she's surprised by the interest she feels.
Ezra is also trying to stay out of the wedding while contemplating his move back home. He's a sexy, witty, intelligent professor. He enjoys surprising people and he certainly defies Angie's expectations at every turn. They quickly bond as they are swept up in the surrounding wedding.
"He seemed impressed at the time, so you're welcome."
He took a moment to process. "I'm not sure what I'm supposed to be thanking you for?"
"For making your reputation a lot edgier than what you likely would have earned on your own."
"Hey, I'm edgy."
Angie and Ezra have more in common than either expected. They see past the surface and push each other to see themselves and their pasts in new and startling ways. There's definitely a push-pull factor as they are attracted in spite of themselves.
"You're right," she said. "Maybe it is fate that keeps doing this to me. Why else would I find you this annoying and still be attracted to you?"
He gave a bark of laughter. "I could say the same thing about you."
A Wedding One Christmas is an emotional whirlwind with banter, heat, and conflict. There were a lot of ups and downs, which became somewhat confusing to follow, and some of the plot points were too convenient. Therese Beharrie created complicated characters with an interesting premise. Fans of Shana Gray and Tamra Baumann will enjoy A Wedding One Christmas.
Book Info:

Publication: Expected publication: November 19th 2018 | Carina Press |
Of all the weddings in all the world, Angie Roux had to be mistaken for a bridesmaid in this one.
Caledon, South Africa, is supposed to be just a stop on the way to Christmas in Cape Town, part of Angie's long-avoided homecoming. She never expected to star in a bizarre comedy of errors, but here she is: convincing a handsome stranger to be her fake boyfriend for the day.
Ezra Johnson, the handsome stranger in question, turns out to be a pleasant distraction from both the wedding and thoughts of her first family Christmas without her father. And he seems to loathe weddings just as much as she does. He's the perfect temporary companion.
But a lot can happen in twenty-four hours. Including a connection so strong it tempts them both into thinking of something more permanent…
One-click with confidence. This title is part of the Carina Press Romance Promise : all the romance you're looking for with an HEA/HFN. It's a promise!