About a Rogue by Caroline Linden is a delightful marriage of convenience romance set in the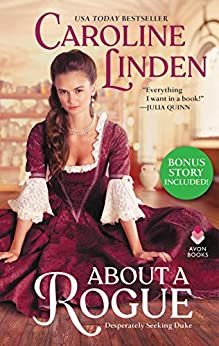 English countryside and the first in her Desperately Seeking Duke series.
Maximilian St. James is surprised to discover that he's closer in line to a dukedom than he'd thought. Tasked with making himself more respectable as befitting his new status, he's decided to find himself a wife and has offered for the hand of Cathy Tate, daughter of a successful pottery merchant.
Bianca, Cathy's sister, knows that Cathy actually has feeling for the local vicar and devises a plan to help her sister escape the marriage, putting herself in Cathy's place. She's always been hands-on in the family business, successfully immersing herself in the design aspects and the idea of all of her inheritance going to a stranger is something she won't contemplate. If she has to be married to Max to make sure the company stays safe, she's willing to do it. While their marriage starts out on a rough footing (an exchange of brides at the last minute!), gradually they learn to trust each other. But Max is harboring a secret. Will it ruin their chance at a happy ever after?
There are a lot of details in this story that make for an entertaining read. While Max has previously made his fortunes by gambling and is a bit of a rake, he sincerely does have the best interests of the Tate family business at heart and had done a lot of research into the company before proposing. After all, their continued success means his financial success as well. While the switch of brides is a bit of a kerfuffle, he's not unhappy with the bright, forthright Bianca, especially since her business acumen aligns with his own. I really enjoyed all of the details of the pottery business, the descriptions of Bianca developing the colours of the pottery and her own porcelain, and how they bring the company's wares into London society through Max's connections.
There is a lovely slow burn romance between Bianca and Max. They don't have any reason to trust each other at the start and Bianca is definitely wary of Max's intent towards their family business but he soon shows her that he knows what he's doing. They physical intimacy starts out slowly, but the sexual tension eventually leads to some passionate scenes and a real sense of connection. Max's secret isn't revealed until late in the story (I won't spoil it here) and it's definitely not what I was expecting. I liked how it was handled and it show's Max's true character underneath his roguish reputation. The other possible dukedom inheritors are introduced at the beginning of the book and I am looking forward to reading their stories as well. This is a well crafted, enjoyable and entertaining historical romance with a unique plot and is one I'm happy to recommend.
Book Info:

Publication: Jun 30, 2020 | Avon | Desperately Seeking Duke #1
It's no love match…
Bianca Tate is horrified when her sister Cathy is obliged to accept an offer of marriage from Maximilian St. James, notorious rake. Defiantly she helps Cathy elope with her true love, and takes her sister's place at the altar.
It's not even the match that was made…
Perched on the lowest branch of his family tree, Max has relied on charm and cunning to survive. But an unexpected stroke of luck gives him an outside chance at a dukedom—and which Tate sister he weds hardly seems to matter.
But could it be the perfect match?
Married or not, Bianca is determined to protect her family's prosperous ceramics business, even when Max shows an affinity for it—not to mention a dangerous ability to intrigue and tempt Bianca herself. And when Max realizes how beautiful and intelligent and desirable Bianca is, he'll have to prove he's no rogue, but the passionately devoted husband she craves…