Expectation by Anna Hope: Life in all its messy glory, is explored beautifully in Expectation by Anna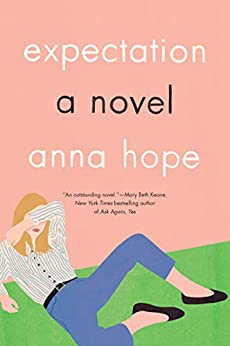 Hope. This thoroughly well written novel is utterly and entirely about women and woman hood, friendship and sister-hood, and invariably becoming someone different or even more than what you expect.
Cate, Hannah and Lissa are three very different women and at times with their different backgrounds, classes, family orientation it seems very unlikely friends. Yet they all share deep bonds that span across time and create secure touchstones throughout each others' lives. Hope switches from the past to the present seamlessly to fill in the gaps and silences and carve out the bones for some really strong every-day story-telling set in England, that I am certain every woman irrespective of culture can relate to and find solace in.
It is the moments of jealousy, betrayal and competition that smack the hardest as a form of true insight into the weapons of womanhood, the ways in which we survive each other's blows and have the deep capacity for forgiveness – particularly when its embedded in love and friendship.
Throughout we are cleverly reminded that we don't always have the answers but as women, we do always have the expectations of who we should and shouldn't be, what success and failure look like, what love and friendship should contain. The short, sharp chapters punctuated by time periods enable you to fly through the book with ease, so quick in fact that you wish you were able to hang out with Cate, Lissa and Hannah a little longer, feeling their pain, their grief, their hope, their struggles.
Ultimately, this incredibly earthy book is simply a wonderful reminder to grab a cuppa, look up at the blue sky and embrace whatever happens and whoever you become.
Book Info:

Publication: 11th July 2019 | Doubleday |
Hannah, Cate and Lissa are young, vibrant and inseparable. Living on the edge of a common in East London, their shared world is ablaze with art and activism, romance and revelry – and the promise of everything to come. They are electric. They are the best of friends.
Ten years on, they are not where they hoped to be. Amidst flailing careers and faltering marriages, each hungers for what the others have. And each wrestles with the same question: what does it take to lead a meaningful life