Accidentally Family by Sasha Summers finds Felicity put into a difficult situation. On his deathbed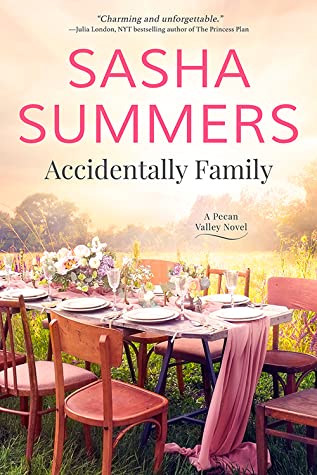 after an accident that took the life of his wife, her ex-husband asks Felicity to take in his toddler. Her daughter, who is leaving for college at the end of the summer, takes it in stride. Her teenage son, who harbors a lot of anger towards his father, doesn't take it so well. While trying to balance the new addition to the family, her ex's former friend, Graham, steps in to help her out. He is dealing with his own teenager, Diana, who has emotional problems and blames him for the death of her mother. The pair work together to try to heal not only their children, but each other.
Felicity doesn't really want to raise Jack, but, without any other option, she puts the needs of the toddler before herself. At one point Nick objects to her having a relationship, so she backs away from Graham. I thought, in that instance, she should have put her foot down. She has a big heart and puts everyone before herself, but she deserved happiness, too.
Nick has a lot of anger towards his father, and they don't get to resolve it before his death. It's something Nick carries around with him, and while I sometimes didn't agree with his actions, I couldn't help but feel for him. The first real interaction between him and Jack is both sweet and heartbreaking.
Graham is dealing with a lot with Diana, and I admired his determination to do what was best for her, even if it meant going against her psychiatrist's recommendations. He was trying to do what was right but she constantly lashes out at him. Both are hurting because they don't know how to really communicate with one another, and it takes Felicity to really start healing the pair.
There are also a couple of side stories in this book. One involves Honor and Owen, a boy determined to date Honor if only for a couple of weeks before she leaves for school and he leaves for boot camp. I thought they were a good couple and I liked how he easily immersed himself into the family in such a short period of time. Another side story involves Felicity's sister, Charity, who returns to town pregnant, and her ex-boyfriend in high school, Braden. It seems like there may be a potential romance brewing there, and I'm interested to see what happens with them.
Accidentally Family is about family, second chances, and healing. It's a heartfelt, emotional story that tugs on the heartstrings and will have you rooting for all involved to find the happiness they deserve. Well-written with realistic characters and situations, it's a book not to be missed.
Book Info:

Publication: May 26, 2020 | Entangled: Amara |
Life for Felicity, and her teen children, is finally back on track. After her divorce, she wasn't sure if her sweet family would ever be the same. But things are good––right up until her ex's spirited toddler lands on Felicity's doorstep. If the universe is going to throw lemons at her, thank God she has her best friend, Graham, to help her make lemonade out of them. How did she never notice how kind and sexy he is?
Graham is still recovering from his wife's death years ago and trying to help his teen daughter get her life together. Who is he kidding? His daughter hates him. Forget lemons––he's got the entire lemon tree. So when Felicity suggests they join forces and help each other, he's all in. And suddenly he can't stop thinking about her as more than just a friend. Too bad their timing couldn't be worse…
Because life rarely goes as planned. Luckily there are many different kinds of family to hold you together and lift you up…plus maybe even a little love between friends.