A Royal Second Chance Summer by Viv Royce: This was a fun, charming book to read and even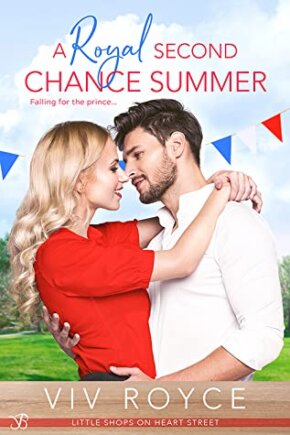 though it is the third in the series, I had no problem reading it as a stand-alone. It was a short book so was fast to read but it flowed smoothly and was easy to read. The characters were heartwarming, easy to connect with and even the side characters were sweet. The first chapter draws you in and keeps you reading until you finish it!
Prince Nicolas of Belfort was trying to find an antique royal heirloom that his grandfather had given away years prior. He never understood what would make his grandfather give away the priceless Bird of Paradise, but he wants to find the Bird of Paradise and surprise his grandfather with it on his eightieth birthday. After seeing how his parent's marriage turned out after marrying for love, he has no wish to follow their example. He believed that marrying for the good of Belfort was more important than love. Keeping his identity as a prince a secret, he arrives in Wood Creek looking for help in finding the family heirloom. Being arrested and falling for the woman helping him was not in his plans.
Lizzie Cates had fled the life of living in the spotlight with her family and their fortune. She moved to Wood Creek, where she became part of the community and opened an antique shop. She's intrigued by Nicolas and the mysterious Bird of Paradise. She agrees to help him find it if he will help her organize the Fourth of July event the town has. Finding out he was a prince; Lizzie was devastated because she didn't want to live in a world like his again. She comes to realize that she knows Nicolas better than anyone and that he understands her fear.
Lizzie and Nicolas were the perfect couple. It was great seeing their perspective on life change as their relationship grew. Nicolas came to realize that love is more important in a relationship and should not be put before anything else. Lizzie begins to understand they balance each other and can have a future together with both of them working together.
Book Info:

Publication: June 22nd 2020 | Entangled: Bliss | Little Shops on Heart Street #3
Prince Nicolas is looking for a priceless royal heirloom. Trying to stay under the radar, he keeps that he's a prince secret—especially from the cute antiques dealer he asks to help him. The longer it takes, the more time they get to spend together, though no matter how attracted he is to Lizzie, love is certainly not an option for the heir to the crown of Belfort.
Lizzie Cates fled her family's new-found fame and fortune because life in the spotlight wasn't for her. She loves her small town, where the most exciting thing on the schedule is the car parade for the Fourth of July. That's just how she likes it, until Nicolas comes along. Lizzie finds herself falling for the caring man who craves the country and small-town life as much as she does.
Except Nicolas has a secret that will shatter both their dreams…