Loudmouth by Avery Flynn: This novel was everything and more! I loved every second of it and I can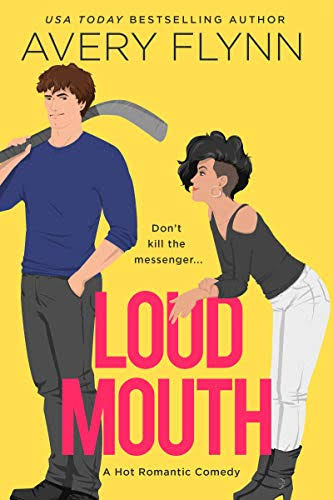 promise any read would feel the same way. Flynn has really delivered with the third instalment in the Ice Knights series and I hope she has more books planned to entertain us in the future.
"And now here I am, six years later flirting with disaster again." "My name's Ian, not disaster."
In Loudmouth we follow the story of Shelby a hockey blogger who has just landed her dream job, as part of the Ice Knights media team. Not only does she get to do what she loves everyday, work with her favourite team, but she gets to do it using her own blog The Biscuit. Things do not get of to a very good start for Shelby when another reporter gets the scope of a lifetime when she overhears a conversation that Shelby has with her mum, where not only does some major tea get spilled but it's about the very team she has just started working for. Feeling extremely guilty for the part she played in blowing up not only one guys life but two of the Ice Knights players all Shelby really wants to do is hide and wallow in her guilt, so when her boss Lucy says she has the perfect mountain cabin Shelby jumps at the chance of some alone time.
"It wasn't like she wanted to hold his hand, or touch him, or— I should have just let him fall on his ass. Way to go, Past Me."
After having his entire world flipped upside down, Ian does not know what to believe or who to trust, well it sure isn't the eager blogger that sold him out or his lying best friend who is actually his brother. And to make matters worse Ian somehow managed to injure his thumb, benching him till him till the team doctor clears him, so all Ian really wants to do is drown away his self pity with a bottle of scotch while he stews on what has become of his life. The very last thing he expected when he arrived at the cabin that Lucy from PR had organized for him, was to get poked with a taser by the very girl he was trying to get away from.
"Her annoyed knight-in-ass-hugging-jeans"
With a freak snow storm snows them in, neither can leave the cabin, and when the power goes down, the pair are forced into even closer quarters. With tension running high and all kinds of new flirty feelings floating around Ian and Shelby share what was supposed to be a once only steamy night in front of the fireplace. But these steamy feelings don't seem to want to stay back at the cabin, and they are forced together once again this time when Shelby accompanies the team for their away games to document how Ian and Alex begin to fix the relationship. But when Ian's past insecurities come steamrolling back will Shelby be able to prove that she actually cares about him and that it has never be about furthering her media career, or will Ian let his fear blind him.
I can not say it enough this book is EVERYTHING! Flynn has done a brilliant job with this hockey series and the latest in settlement has just taken it to a new height. Ian and Shelby balance each other perfect, highlighting all their very best qualities, while helping heal the wounds. I love that Shelby was basically this little pocket rocket taking on this big growly bear that was Ian.
"I didn't plan to fall in love with you, but really I should have expected the unexpected when it came to you after you Tased me in the cabin."
Loudmouth had me laughing out loud continuously, the entire cabin situation was pure magic. I loved how Shelby was convinced that Ian was some creepy ghoul coming to get her and end up whacking him with her taser. The laughs kept coming when they get almost arrested for staying at the wrong cabin. This book has not only been hilarious but also the hottest from the entire series. Gosh, do they have some chemistry!
Overall I highly recommend Loudmouth, you will absolutely fall in love with this hockey romance. I just hope that we get Alex's story next.
Book Info:
Nish| 5 Stars | HJ Top Pick | No |
Publication: June 22nd 2020 | Entangled: Amara | Ice Knights #3
I never meant to say a word, not one single word.
But I did.
And now, because of my blog, everyone knows that Ice Knights hockey star Ian Petrov's best friend and fellow player is actually his half brother—hello, hockey Hall of Famer dad who couldn't keep his jeans zipped.
That wouldn't be such a big deal if Ian knew. He didn't, and boy howdy is he pissed. And who is he most mad at? Oh sure, he's upset with his dad and former best friend/brother from another mother, but most of his ire is with me. It's definitely a case of hating the messenger.
And what could make it worse? How about the two of us being trapped together in a remote cabin after a massive blizzard. Neither of us can leave. Just us, the snow, his resentment, and OMG sexual tension so thick it would take a snowplow to break through it.
I've got to get out of here before I do something even dumber than I've already done and kiss the sexy, snarly grump with his misplaced anger and perfect pecs. That would be the worst, the absolute worst. That's why I'm not going to do it. Nope. Really. So why can't I stop imagining what it would be like?