In Act Like You Love Me (An Accidentally in Love Novel) by Cindi Madsen, Brynn McAdams has tried her best to grow up and change from the drama geek and weirdo she was in high school. Everyone used to make fun of here because she liked to dress differently in vintage clothing and was in the drama club. She was ignored and dismissed by her crush Sawyer Raines when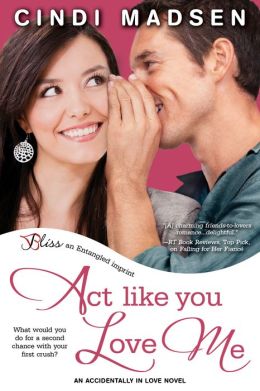 she dared to ask him to prom, all adding to her hating high school and wanting it to be over ASAP, and never to have to see any of the people who humiliated her again.
Now she has graduated from university with a degree in literature and a minor in acting. She is working in her family's bait shop with her brother and acting is her escape from reality. But while running late she has no choice but to change her shirt in her car in the parking lot. Too bad that she has just flashed her bra to a man in the parking lot. As she gets closer to him to get into the theater, she recognizes his emerald green eyes, Sawyer Raine is back in town and her first thought is to run.
Sawyer Raine has returned home only to fix and sell the lake house for his mother. Since his father died nobody has used it and has fallen into disrepair. While there his aunt has asked him to help her by directing a play at the theater, since he has nothing else but the lake house repairs to keep him busy he feels he will have enough time to help her, do the repairs and still be able to return or move to NYC soon enough. But the beauty that just flashed him has intrigued him and he wants to know more, even if he knows better than to get involved with any actress, he has learned his lesson or so he thought.
As fate would have it, Brynn happens to be his next-door neighbor at the lake house, and she does not like him making a lot of noise at night doing repairs to the point she can't sleep. But one misconception on his part leads to lies by omission on her part. Brynn doesn't want to relive her past, and maybe being someone else will be the only way she can finally have her high school crush notice  her this time.
Sawyer and Brynn spend lots of time together working in the theater and living next door to each other, which will lead inevitably to them dating. But with Sawyer firmly set on his plans of going back to New York and then moving to LA, it leads to them both fooling themselves that this is only a fling, and Brynn into believing that her lies will not come to light before she is ready to loose Sawyer once again and this time forever.
The romance in this book is really sweet, but both Brynn and Sawyer will need to let go of the past and open up to the possibilities a future together can bring them.
If you want a fun, sweet and very interesting romance with a former high school jock and a drama geek, you will like Act Like You Love Me by Cindi Madsen.
Book Info
Publisher: Entangled: Bliss (June 10, 2013)
What would you do for a second chance at your first crush? 
Brynn McAdams isn't the awkward drama geek she was in high school–she's grown up and confident, or at least she likes to think so. But when her old crush, the impossibly handsome and impossibly unattainable Sawyer Raines, comes back to town to direct her community play, Brynn finds herself determined to be someone other than the girl he doesn't even recognize. Good thing she's an excellent actress.
After his bad breakup in NYC, the last thing Sawyer wants is to get involved with another actress. But the glamorous and beautiful Brynn draws him in, even though as her director, he knows she's off-limits. There's just something about the woman that feels…familiar. Like home.
As Brynn's lies start to snowball, she struggles to stop acting and come clean. But what if Sawyer is already falling for the fake Brynn, not the Brynn she truly is?