In Your Room or Mine? by Charlotte Phillips, Izzy Shaw is trying to get over her break up with her boyfriend. She thought they would have a happily ever after, but apparently she was the only one! When she finds out he's been cheating, her confidence is shattered. To 'reinvent' herself, she decides not to cancel the romantic hotel stay they'd planned and instead goes alone. Izzy's intention is to relax, go to the spa, shop, etc. But then she meets Oliver, the handsome stranger in the lobby. When she feels the passion between her and Oliver, Izzy goes out of her usual character and has a sizzling one night stand with him! Of course she had to set the ground rules first…one night only, no getting to know each other, no follow up.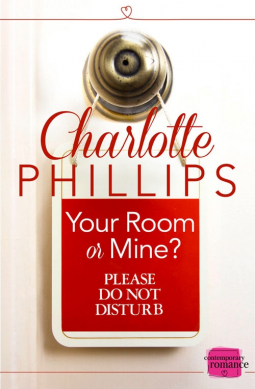 When Oliver wakes up in the morning to find Izzy has already left, he can't believe it! Despite her ground rules, Oliver has some regret that he will never see Izzy again. Izzy might feel the same way, but she is determined to move on and focus on her landscaping business. Ironically, that is what brings her back to Oliver! They meet again at a client's of Izzy's and prove to each other that those sparks were definitely not a one time thing! Oliver hasn't been able to put Izzy out of his mind and is thrilled when he spots her. Izzy agrees to continue the fun without commitment, but of course she has ground rules…again!
Oliver is a workaholic, definitely not looking for a relationship. "Allowing a relationship to distract him from work would be unheard of, would go against every instinct he'd learned growing up." But there's something about Izzy that starts to change his mind! Now he'll have to change Izzy's mind. Will Oliver and Izzy stick to the rules, or as they spend more time together will they see sometimes you don't need rules? Can Izzy face her relationship fears to give it one more try with Oliver?
Your Room or Mine is the perfect title for Charlotte's book! Your Room or Mine is a fun, fast paced read that draws you in right from the start and keeps you there. Izzy and Oliver may be opposites of each other, but at the same time they have many similarities…and they go together very well!! Watching their relationship evolve from a one night stand to something more was a lot of fun. I really liked how Izzy manages to make Oliver feel so much without even trying, and how Oliver reacts. Izzy's self confidence took a real blow with her last break up and Oliver is just the man to make her feel again if she'll let him! Both characters were really likable and easy to relate to, and Izzy could make me laugh!
Your Room or Mine is a perfect quick read romance without a lot of the drama some romances can bring. Charlotte gives us everything we need to enjoy Izzy and Oliver's story!
Book Info
Publisher: HarperImpulse; ePub ed edition (May 9, 2013) Series: Do Not Disturb #1
1 cheating ex, 3 bottles of white wine, an emergency pep talk from the girls… and this seemed like a good idea at the time:
Izzy Shaw's Getting-Over-Him Action List
1. eBay his entire collection of football memorabilia and spend all profits on treating myself to fabulous new wardrobe.
2. Turn plans for 'Loved-Up Mini-Break' at exclusive boutique hotel into a weekend of spa pampering, me-time and shopping at Harvey Nics.
3. Don't get even, get even better. Have one night stand with drop-dead gorgeous stranger – Mr Tall, Dark & Handsome in the hotel lobby is just what I need!
Your room or mine? Go on Izzy…