In Addicted to You by Krista & Becca Ritchie, No one knows that looks can be deceiving better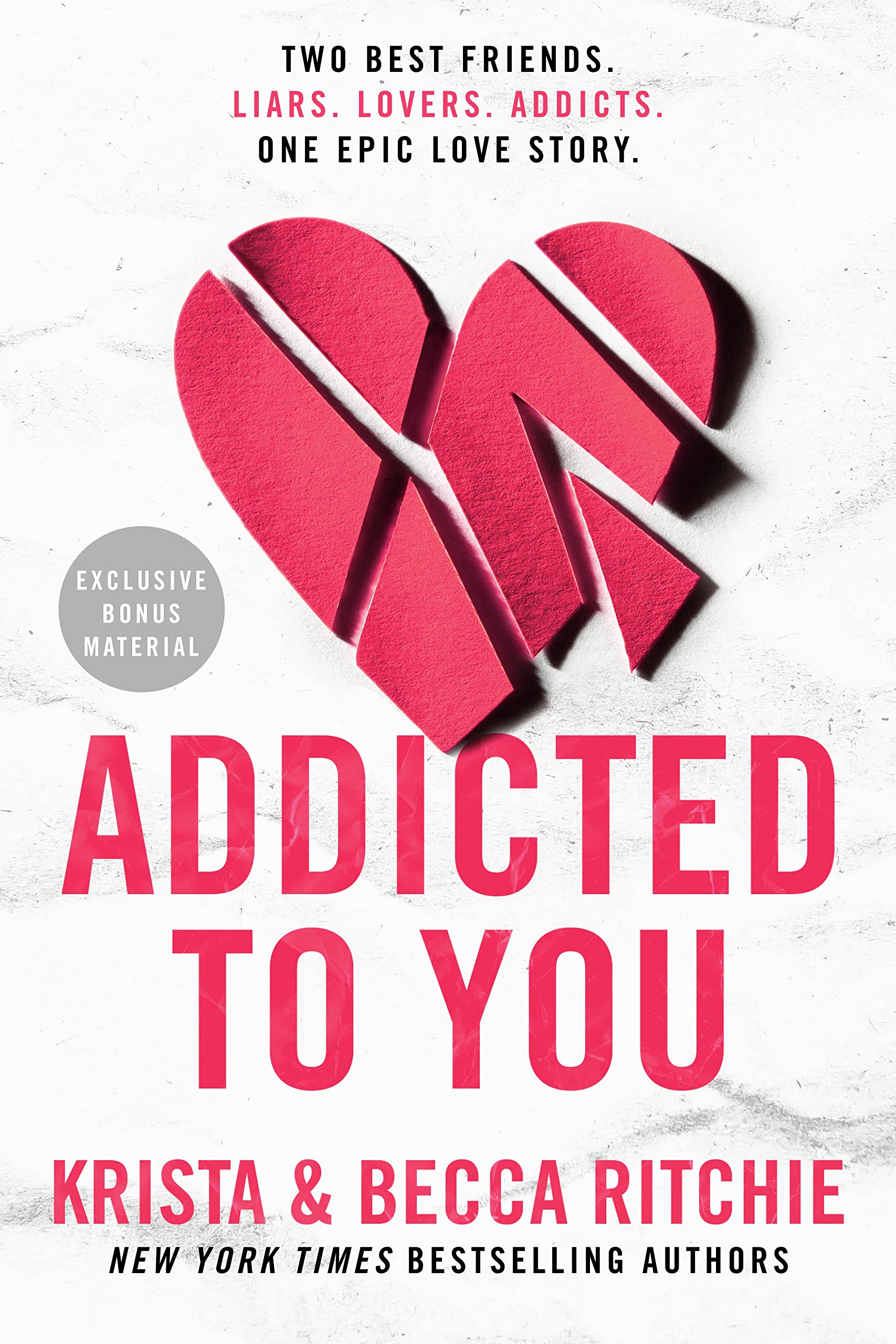 than Lily Calloway does. A seemingly introverted college student who comes from an affluent family, her true nature only shows itself at clubs, parties, and bars. That's where her addiction to sex comes out in full force. One hook up after another barely does anything to sate Lily's hunger. And the only person who knows this is her longtime best friend Loren "Lo" Hale. He also happens to not only be her live-in fake boyfriend in their off-campus apartment, but he also has his own addiction to alcohol to hide from everyone in their lives.
'Three years later and drowning in lies, we're suddenly prepared to lose everything for the chance at something real.'
Lo and Lily know they are a ticking time bomb just waiting to detonate. Because it's only a matter of time until their secrets come out and they'll have to do something about it. But in the meantime, Lily and Lo take the leap from fake lovers to the real thing, hoping it will curb some of their hungers and the lies they tell on a daily basis. Sadly, it only leads to a way they could damage each other even more deeply. As their world changes with the addition of a few new people who see things more clearly than Lo and Lily ever imagined they would, they'll likely be forced to admit their addictions are ruining their lives. And that it's past time to own up to it all.
'I don't know how to help Lo without hurting myself. And I'm too selfish to find a solution to his problems.'
An angsty, fake-dating-turns-real New Adult novel with two main characters who both had their own battle to fight, Addicted to You showed what happens when love and addiction collide.
'Our selfishness wedges between us. Neither of us is willing to give up what we love for each other. Not yet. And I'm not sure what it's going to take to let go of our addictions.'
Trigger warning: View Spoiler »alcohol and sex addiction, suicidal thoughts, attempted sexual assault. « Hide Spoiler
I'm not going to lie: Addicted to You was a bumpy ride, friends. It was tough to watch our heroine and hero, Lily and Lo, enable each other in their respective addictions, sex and alcohol. There was no doubt that the love between them was strong and real. No doubt at all. It was their selfish actions that truly was their undoing in the end. And that led to a hot mess of emotions and hurt that wasn't easy to overcome for Lo and Lily.
Now, I know that addiction is something that completely wraps individuals up in it–to the point that it's tough to see anything else at times. I've had enough loved ones and friends fight it that I can understand why Lily and Lo acted the way they did. However, that basically ended up being the plot: their addictions and how they kept choosing to hurt each other day after day because of it. And I think that's why I just didn't connect with either of them until the end when a surprise in Lo's life infused the story with a much needed break from booze and sex. That was when author duo Krista and Becca Ritchie's writing style–which was admittedly very easy to read–finally felt like it hit its potential.
Addicted to You left off at a pivotal time in trust fund babies Lily and Lo's lives, more of a teaser than a true cliffhanger. And I can only hope that where they are headed leads them to a much less indulgent lifestyle, one that won't harm them or the others around them any longer.
QOTD: Do you think it's possible that two people who truly love each other can still be "bad" for one another?
Book Info:

Publication: Published August 16, 2022 | Berkley Books | Addicted #1
She's addicted to sex. He's addicted to booze… the only way out is rock bottom.
No one would suspect shy Lily Calloway's biggest secret. While everyone is dancing at college bars, Lily stays in the bathroom. To get laid. Her compulsion leads her to one-night stands, steamy hookups, and events she shamefully regrets. The only person who knows her secret happens to have one of his own.
Loren Hale's best friend is his bottle of bourbon. Lily comes at a close second. For three years, they've pretended to be in a real relationship, hiding their addictions from their families. They've mastered the art of concealing flasks and random guys that filter in and out of their apartment.
But as they sink beneath the weight of their addictions, they cling harder to their destructive relationship and wonder if a life together, for real, is better than a lie. Strangers and family begin to infiltrate their guarded lives, and with new challenges, they realize they may not just be addicted to alcohol and sex.
Their real vice may be each other.