Advice from a Jilted Bride (The Baileys #2) by Piper Rayne is a series about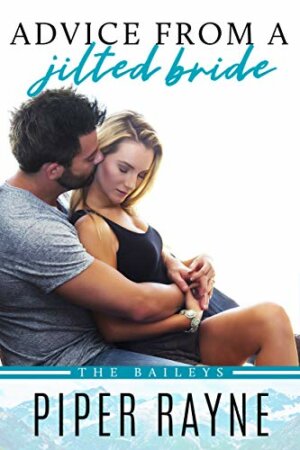 the Bailey Sisters. While I wish I would have read the first book to get a little background, the story was easy to pick up and was an enjoyable read. This is the story of Brooklyn and Wyatt.
Brooklyn Bailey was the third oldest sibling. She was engaged to be married to someone we learned the siblings didn't particularly like but they loved Brooklyn and it was her choice….until he left her at the alter on their wedding day.
Wyatt Moore was the new hot neighbor that moved in across the hall. His first day in Lake Starlight happened to be Brooklyn's "fateful day."
What I enjoyed about these characters is their banter and their connection. They first meeting was something for record books, but as the story progressed, you realize that these two are really perfect for each other.
I think I am going to go back and get the first book so that I can get the entire Bailey experience, because these sister are a trip. The banter and the connection makes me wish I had a bunch of sisters, and at times it made me glad I didn't. Great read.
Book Info:

Publication: Published March 21st 2019 | Piper Rayne, Inc | The Baileys #2
What's a girl to do after being ditched at the altar by text message? That's right. Text. Message.
How does she pick up the pieces and move on? I'm no Dear Abby but here's a little free advice…
Advice #1 – First, purge your apartment of all things him—by tossing his belongings off the balcony.
Advice #2 – Do not, I repeat do not, throw anything out into the hallway because you'll injure your hot new neighbor.
Advice #3 – When said neighbor brings over Chinese Food do not let him stay and keep you company. It's awkward when you realize he's your boss.
Advice #4 – Accept his offer to help you with your side business but think twice before using a date to his sister's wedding as collateral.
Advice #5 – Investigate who your mystery neighbor really is. Don't trust his word even if he's the world's best kisser.
If you listen to nothing else, pay attention to that last one. It's the most important and will save you a lot of heartache.
Xo,
LOVESICK IN LAKE STARLIGHT