In Indulge Me (Stark Ever After #6.3) by J. Kenner , Still healing from their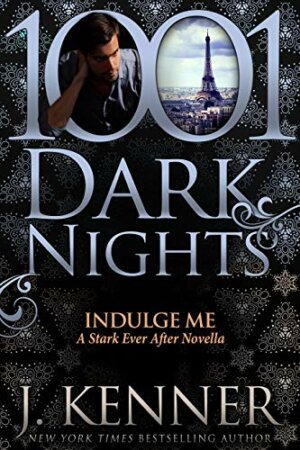 emotional wounds after their family was nearly shattered, Damien and Nikki Stark turn to each other for comfort as they always have. Their love is certainly as strong as ever. But Nikki's fears after the harrowing recent past has her doubting the safety of her and her beloved family. It will take Damien's own brand of therapy–set in the bedroom and other exciting locations–for Nikki to let go of her worries and find herself under her gorgeous husband's control. And with it, hopefully finding a new level of closeness between them that will carry them forward.
'He simply watched, mesmerized by his family. By the swell of his heart when he looked at them, the pride he felt that Nikki was his–that this family was theirs–outweighing everything else he'd accomplished in this world.'
Full of passion yet sweet enough to sweep a reader off her feet, Indulge Me was an uber hot novella about one of my favorite contemporary romance couples: Nikki and Damien Stark. And best of all? It's from *both* their POVs!!
"Fear isn't going to get the better of me anymore. I'm stronger than I think I am, and a lot of that is because you're always with me, even when you're not."
"I am," he says. "Don't ever forget it."
It's always fun as a reader to revisit some of my favorite couples and see how far they've come since they fell for each other. And even after several books and novellas about Damien and Nikki, I still just can't get enough of them. Their chemistry, the dominance and submission, the tender romance, and now their family life. They've been through a lot of pain in recent books so I really thought J. Kenner did a fantabulous job with this steamy novella, showing that sexier, more provocative side of this power couple again and letting them have some time to themselves for a bit.
I loved seeing Nikki willing to give over control to Damien to help her come to terms with her fears after their family was almost torn apart by an outsider. The level of trust between them is always inspiring to me. And as they traipsed from California to romantic Paris, Damien proved yet again that he knew Nikki, wholly and completely, and figured out exactly what she needed to put the darkness behind them. There were some memorable scenes that will have readers fanning their faces and reaching for a cold drink, for sure, with all the boundaries that get pushed.
Stunning and even a smidge taboo, fans will flip for Indulge Me, Damien and Nikki's latest sexy adventure where J. Kenner brought the heat along with true depth of emotion.
Book Info:

Publication: July 9th 2019 | Evil Eye Concepts | Stark Ever After #6.3
Despite everything I have suffered, I never truly understood darkness until my family was in danger. Those desperate hours came close to breaking both Damien and me, but together we found the strength to survive and hold our family together.
Even so, my wounds are deep, and wispy shadows still linger. But Damien is my rock. My hero against the dark and violence.
And when dark memories threaten to consume me, he whisks me away, knowing that in order to conquer my fears he must take control. Demand my submission. Claim me completely. Because if I am going to find my center again, I must hold tight to Damien and draw deep from the wellspring of our shared passion.