In After All (Romancing Manhattan #3) by Kristen Proby, Attorney Carter Shaw is a widower, a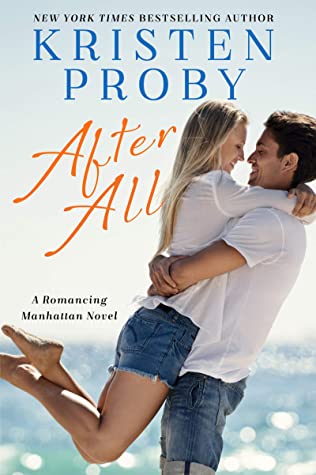 single dad to his twelve-year-old daughter Gabby, co-owner of a law firm, and evidently is head over heels for his assistant, Nora Hayes. The five years since his wife passed away after battling cancer have been tough. And Nora has been there through it all for Carter and Gabby. It wasn't until recently that he noticed his attraction to her–but now that's all he can think about. When he and Nora get stuck in the office for the night during a snowstorm, everything changes. From then on, Carter knows he can't walk away from what they could potentially have together and begins to woo Nora. He hopes that she can look over a few of his missteps along the way and can eventually talk her into a lifetime spent together.
"But let's say we date for a year, have all the crazy sex in the world and fall in love with each other, and then decide to go our separate ways? We can't do that because I'll still be here, every day, in your business."
"Let's go back to the crazy sex," I suggest, making her snort laugh.
Nora has always known Carter was a handsome, charming man, seeing as they've worked together for almost a decade. But she never let herself see him as anything but her boss. Somehow, that night of the blizzard made Nora realize that her recent attraction to Carter is reciprocated. But between her messy divorce a year ago souring her on guys, and the fact that they work together with a no-frat policy in place, it would probably be too complicated to date. Carter didn't get the memo, though. And he's doing everything in his power to court her and sweep her off her feet. Nora already feels a bit like she's part of his family where she takes care of his daughter Gabby all the time and treasures their relationship. Could this be the logical next step to take? And after her last disastrous romance, can Nora trust her instincts that tell her Carter is a good bet?
'I've never loved anyone the way I love Carter, and I'm quickly learning that I don't know him nearly as well as I thought I did. I can't wait to discover more about this complex man.'
As much as I hate to see the Romancing Manhattan trilogy end, Kristen Proby saved the best for last, in my humble opinion. A scintillating office romance with plenty of emotional depth and the addition of family drama, you couldn't ask for a more satisfying finale.
"You will never know a day when you're unloved by me, because your soul is so tangled in mine, there will never be a time that I'd let you go.
There's magic in what we have together."
Each book in this trilogy has had its own unique feel based on the couple we've followed. For Carter and Nora's romance it was all about the fiery passion that had been simmering for some time while they worked together–a passion that finally exploded between them thanks to a wintry snowed-in night at the office. Already sounds good, right? But it got even better when it was clear that what Nora and Carter felt went so much further than lust.
I loved them together and thought they were a match made in heaven–and an adorable team, taking on office gossip, Carter's moody teenager Gabby, and both his and Nora's parents who were (always) less than impressed with their grown children. Nora was a whole lot of fun. She was a little sassy to Carter in a cute way, was super organized, and was a truly strong woman, mentally and emotionally. Nora kept Carter in his place, in and out of work, that's for sure. And her relationship with Gabby was honest and melt-your-heart wonderful.
Then there's Carter. Oh, Carter…he definitely tried. (lol) For such a smart-witted man, an attorney who people didn't want to mess with, there were a few "Oh no he didn't" moments where he accidentally put his foot in his mouth. But don't worry. Nora not only called him on it but made sure Carter made it up to her and understood where he went wrong in the first place. I did really enjoy getting to know him better, though, and thought he was a genuinely nice guy…who happened to have a dirty mouth. (Who knew?) Carter and Gabby went through so much pain after losing his wife/her mother to cancer. So it was heartwarming to see him find love again and with someone who fit their family to a T. Sigh…
Flirty and sexy romance melded perfectly with a sweet story of healing and fresh starts in After All. And with an epic epilogue that will have readers sighing happily, Kristen Proby sent these characters off into the sunset with style.
Book Info:
Michele H| 4 Stars | HJ Recommends | No |
Publication: Expected publication: July 14th 2020 | by Avon | Romancing Manhattan #3
The last sizzling novel in Kristen Proby's Romancing Manhattan series finds a widower falling deeply in love again with a woman who has scars of her own.
When Carter Shaw's wife died five years ago, he was left to pick up the pieces not only of his own broken heart but also that of his devastated eight-year-old daughter, Gabby—leaving him with no time for anything else, let alone dating. But recently, Carter has noticed women again and soon even begins dating. No one has stuck around for long, mostly thanks to one very angry Gabby.
Nora Hayes has worked as Carter's assistant for years. Recently divorced herself, Nora spends many hours at the office and helping Carter with his daughter whom she adores. Despite loving her job and being wrapped up in the Shaw family, Nora's never given her handsome, kind workaholic boss a second thought, especially in the romance department.
But then the snowstorm of the century hits, and Nora finds herself stranded at work with Carter overnight. And suddenly, she sees Carter in a whole new, sexy light. The sadness that's lived in his eyes for so long has now been replaced with pure, unadulterated lust—and Nora isn't quite sure what to do about it. For after the pain of her divorce, she never thought she would give love a second chance.
Carter and Nora have always believed in never combining business with pleasure. But how can they possibly deny the all-consuming chemistry between them…?