In After the Bite by Lynsay Sands, You would think that after decades of being an Enforcer, Valerian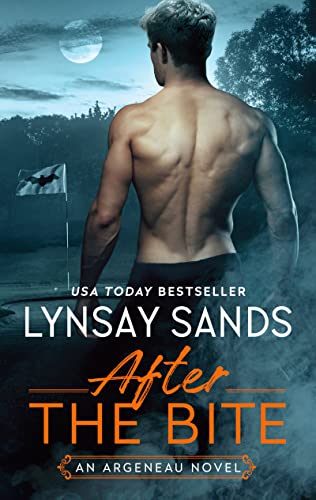 would be used to the stress and how intense it can be tracking down rogue vampires. But now, finally, he has a few days of much needed rest. And he knows just where he's headed: to Shady Pines Golf Club to play 18 holes of nighttime golf. Since Valerian has been to the club several times, he doesn't expect any problems. But it seems like his work is following him when the club's owner, Natalie Moncreif, is nearly attacked by someone out on the green. Even as an immortal, Valerian will have to be careful to not be harmed or make things even more dangerous for the human he believes is his life mate.
'He'd imagined her, dreamed of her, fantasized about her… But those shadowy images he'd had in his mind could in no way compare to the reality of a living breathing Natalie in his arms.'
Natalie had never met the mysterious Valerian MacKenzie until the night he saved her life. Handsome, rugged, and so very kind–especially with her daughter Mia–she could easily find herself wanting to spend more time with him. If she was in the market for a boyfriend, that is. Which, given Natalie's crazy work schedule, finding time with Mia, and past horrible experiences with men, that's a big old nope. But Valerian sticking around and even bringing in the other Enforcers to keep her and Mia safe? That has Natalie rethinking her stance on dating. When the truth about Valerian, his family and friends comes out, though, she has to decide if his true nature as an immortal will be too much for her to handle.
"Is he singing–?"
"The Hokey Pokey," Rachel finished for her with amusement as they watched Mia trying to emulate Valerian as he put his right foot in, and then took his right foot out.
"Well, that's…"
"Adorable?" Rachel suggested when Natalie hesitated, searching for a word.
"Yeah," Natalie said with a chuckle, and it *was* adorable.
A paranormal romance that started off as a slow burn and then built up to a quick but exciting finale, After the Bite was another satisfying installment in Lynsay Sands' Argeneau series.
'Natalie suspected she could fall for this guy hard, if she hadn't done so already, and that was scary as hell. Because he had fangs and drank blood.'
Even with this being book thirty-five (!!!!) in the Argeneau series, I still get hooked on Lynsay Sands' characters and the world she's built every time we meet a new couple. I don't think I will ever tire of watching the life mates fall in love, seeing the sweetness of their connections–such as with Natalie and Valerian in this book–and the awe and utter joy of the immortals for having finally found their mate. But boy didn't Valerian have his work cut out for him here. Because not only did he have the normal struggles of an immortal whose life mate is a mortal and all that entailed, but he also had to help Natalie overcome her traumatic past experience with romance. And they unfortunately had an unknown person targeting Natalie, potentially putting her life and that of her two-and-a-half year old daughter, Mia, in danger.
But as with any Lynsay Sands book, there was a wonderful blend of outright funny moments, passion-fueled scenes, and touching, poignant interactions that left me smiling. Natalie herself was a hoot. She was a workaholic single mom who adored Mia to bits and would do absolutely anything to keep her daughter safe. I loved that she stood up for herself when the time called for it and she wasn't afraid to speak her mind. That added to some of the comical conversations Natalie had with Valerian and the other Enforcers–and Lucian! lol–particularly when she found out they were immortals.
Valerian was so kind and wonderful with both Natalie and Mia that I couldn't help falling for him right away. He of course made a few missteps in trying to woo his life mate, as is to be expected with the immortal males as we've seen in other books. It was funny and definitely chuckle-worthy. But Valerian made a wonderful hero who enhanced Natalie and Mia's lives considerably.
QOTD: Are you a fan of slow-burn romances?
Book Info:

Publication: September 27, 2022 | Avon | Argeneau #35
The Argeneaus are back! New York Times bestselling author Lynsay Sands returns with another sexy, passion-filled romance about everyone's favorite vampires.
Immortal Enforcer Valerian just wants to relax. His last assignment had been more grueling than he'd care to admit, and golf has always helped him unwind. If golf course owner Natalie thinks it's a little odd for him to tee off at sunset every evening, she's keeping it to herself. The single mom is sexy as hell, and her little daughter Mia only adds to his delight. He knows Natalie is wary of a relationship of any kind…what will she think when she discovers he's an Immortal? His best course of action is to woo her the old-fashioned way.
But the course of true love never did run smooth—especially for a vampire and a mortal. And when danger stalks Natalie, Valerian realizes he's playing a game of life and death and if he loses this round, he risks losing her forever.