In Stripped by Jasinda Wilder, Grey is working as a stripper to get through college.She has been on her own since she left her home in Georgia after her mother's death and her father refused to approve her choices in life.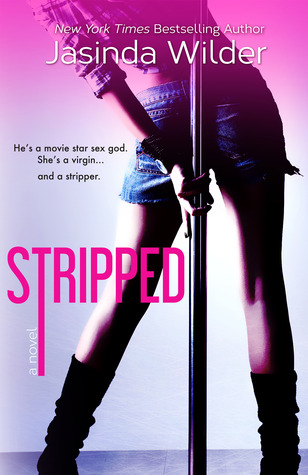 Working as a stripper and pretending to be someone she is not is something she is not used to and therefore even after working so many months in a strip club,she still feels ashamed in what she does.Everything changes when hollywood heartthrob Dawson Kellor walks in the strip club with some friends and Grey has to do a private performance for the special guests.It's an instant connection the moment they both lay eyes on each other and now when sparks fly every time when they come close.
Grey is unsure about trusting a man who is projected as a playboy every time but with Dawson hot on her pursuit,how long can she resist and finally what happens when things become hotter with each passing second between an American icon of sexualtity and a virgin stripper..??
"Don't be scared." His voice is warm. Almost kind.
I shrug. "I ain't…I mean, I'm not."
He laughs, a single huff. "You lie, Gracie."
"What am I afraid of, then?" I find my voice somehow, and pretend
insouciance I don't nearly feel.
"Me." He caresses my hips. "This."
I suck in a long, deep breath. "Don't touch me. Please. Just let me dance."
He backs away, dropping his hands, and collapses to the couch, grabbing
the bottle of whiskey and pulling on it. "Then dance."
So I dance. Naked, afraid, and humiliated somehow, fraught with some
kind of desire I don't understand, I dance. Not like a stripper. Not to provoke
lust. I dance. As Grey, I dance. "You don't belong here." He gingerly extends his hand, brushes a lock of
hair away from my mouth. It's a tender gesture, and it confuses me, scares
me. Hits me somewhere deep inside.
I was very eager to read this one because of the storyline, which I found pretty exciting. The writing was good and I liked the anticipation which Jasinda Wilder built in the starting chapters. I felt there was so much potential in the storyline and it could have been so much better.Grey was too much into self pity for my liking.Instead of crying every time,she should have handled her problems with a different attitude.Dawson was good hero overall and I liked the way he cared for Grey.
Overall Stripped was a good read but nothing special and compared to the author's previous works,this one fell a little flat for me.The storyline was not exactly what I expected and could have made better.
Book Info

He's a movie star sex god. She's a virgin… and a stripper.
So how did I get myself into this situation, you ask? Simple: desperation. When you're faced with being homeless and hungry or taking off your clothes for money, the choice is easier than you'd imagine. That doesn't make it easy, though. Oh no. I hate it, in fact. There's nothing I'd like more than to quit and never go into another bar again, never hear the techno beat pulsing in my ears again, never feel the lecherous gazes of horny men again.
Then, one day, I meet a man. He's in my club, front and center. He watches me do my routine, and his gaze is full of hunger. Not the kind of desire I'm used to though. It's something different. Something hotter, deeper, and more possessive. I know who he is; of course I do. Everyone knows who Dawson Kellor is. He's People Magazine's Sexiest Man alive. He's the hottest actor in Hollywood. He's the man hand-picked for the role of Rhett Butler in the long-awaited remake of Gone With the Wind.
He's the kind of man who can have any woman in the entire world with a mere crook of his finger. So what's he doing looking at me like he has to have me? And how do I resist him when he looks at me with those intoxicating, changeable, quicksilver eyes?
I'm a virgin, and he's an American icon of male sexuality. I'm a stripper, and he's a man used to getting anything and everything he wants. And he wants me. I know I should say no, I know he's the worst kind of player…but what my mind knows, my body and my heart may not.
And then things get complicated.
Full length (90,000 word) New Adult Contemporary Romance.
Recommended Reading Age 18+