Aggie the Horrible vs. Max the Pompous Ass by Lisa Wells: The hilarious title of this book starts the story off with laughter that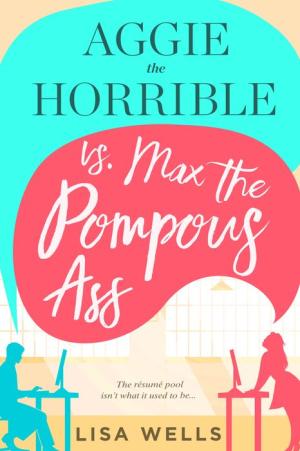 continues until the end. The main characters are exact opposites and their dealings to avoid working together were just too funny. It was a quick and refreshing rom-com with two mischievous grandmothers trying to match their grandchildren together.
"Life's a journey to ping-pong through in a haphazard fashion"
Aggie Johansson had been raised by her grandmother Hazel when her mother left her as a young toddler. Hazel had worked several jobs to provide for Aggie as she grew up and now Aggie wanted to find the perfect career so she could help Hazel. After 100+ jobs in eighteen months, Aggie Johansson had yet to find her happy place in life and a job she could enjoy long term. When Hazel told Aggie she got her an interview with her new friend's grandson, she could not disappoint Hazel. She promised she would go to the interview and IF she was offered the position, she would take it. However, she had a plan that guaranteed Max would not hire her. Despite her sabotaging her own interview, Max offered her the job. Unexpectedly, she came to enjoy the job and was surprised when Max actually listened to her suggestions and asked for her input.
Max Treadwell's company was about to close on a big contract that would help him win the deal he made with his father. He needed an assistant since his was on maternity leave. His grandmother, Grace, called in a favor and forced Max to interview and hire Aggie. He thought his plan to irritate Aggie during the interview would cause her to deny the job. Even though they were opposites he came to discover Aggie had great ideas and they made a great team. He never knew what to expect from her, but he knew it would always be an adventure and add fun to his life.
"His solid made her liquid less sloshy"
Aggie was free-spirited and spontaneous, but she had low self-esteem. She had always thought of herself as not enough because her mom had left her as a child, and she supposedly lived "on the wrong side of the tracks." She let her insecurities get in her way because she was always trying to be "enough." It was great watching her grow and realize she was the only one identifying herself as not enough. Max was trying so hard to win the bet with his dad that he forgot to enjoy life. He realized he had become too serious, and Aggie helped him to slow down and enjoy life. This is a perfect book if you are looking for something light and hilarious. It kept me laughing the entire time and left me smiling at the end.
Book Info:

Publication: July 19, 2021 | Entangled: Amara |
One's playing a game. The other's keeping score.
When wild-child Aggie Johansson shows up for an interview with the last person she'd ever want to work for, golden-boy entrepreneur Max Treadwell, she has one goal—to not be offered the position. While she hates to disappoint the two matchmaking grandmothers who'd pressed Max to hire her, she wants nothing to do with a pity job. Besides, the guy could easily win Mr. Pompous Ass of the year.
The last thing Max wants is to offer Aggie a job. The woman, a mixture of bizarre and annoying, has gone through at least a half-dozen employers this year already. He might've promised Grandmother he'd hire her, but if Aggie doesn't take it because he's more than a little un-charming, that won't be his fault. After all, his company is on the brink of a major land acquisition, and the last thing he needs is a screw-up as a personal assistant.
With neither of them willing to disappoint their grandmothers, the interview becomes the stuff of legends, and somehow, before either can blink, they're suddenly stuck working together.
Aggie's determined the only way out is to be the worst assistant ever and get fired…
Max knows his grandmother would kill him if he fired Aggie, so he'll just have to be so awful she quits…
But what happens next, no one could have seen coming.