Building a Surprise Family by Anna J. Stewart is part of Harlequin's Heartwarming line and that truly fits this delightful novel. As I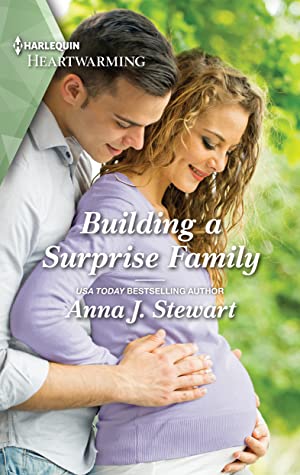 turned the last page, I had a smile on my face and felt all was right with my day.
There are nine previous novels in the Butterfly Harbor series. This book worked perfectly as a standalone. The vivid word pictures the author painted made me feel as though I was right there in the setting. In fact, I so loved the location that I look forward to visiting again with previous tales.
Jo Bertoletti is not your typical heroine. She has learned the construction trade since she was very young. She comes across as incredibly brave to take on a supervisory position at a site that has already had an accident. Also, to not let her pregnancy interfere with her goals for work is admirable. It did make me a little sad that she didn't want to put down true roots after the father of her child dumped her. You can tell she is not shy or demure after her talk with the town mayor.
Everyone in the town is welcoming and not judgmental, which is very refreshing. We all long to be accepted and included. Of course, as soon as Ozzy Lakeman was introduced into the story he became my favorite and I fell in love with him. He had me at books being his saving grace as he grew up.
Ozzy had worked hard at overcoming his weight problem. It was too bad that some people didn't see how forgiving and wonderful he was when he was heavier. It's lovely that he can care for a woman who is carrying another man's child. I also fell in love with Lancelot, the dog, who is the perfect "good boy".
I had the pleasure recently of "meeting" the author Anna J. Stewart via a small interactive Zoom social with three other Harlequin authors. They were all engaging and fun, but she really stood out to me. I was very excited at seeing this most recent novel on my list to read and review. I was impressed with all she shared during the two hour program, but am even more impressed with her writing. The pacing is perfect along with strong storytelling.
I have read a lot of romance novels so far this year, but Building a Surprise Family is, hands down, the best and a solid five stars.
If you haven't joined this fabulous author's fans, you need to pick up a Butterfly Harbor book ASAP.
Book Info:

Publication: July 27, 2021 | Harlequin Heartwarming | Butterfly Harbor #10
An instant family…Is life-changing!
Pregnant construction supervisor Jo Bertoletti doesn't need anyone's help…or another heartbreak. So she's putting handsome, kindhearted firefighter Ozzy Lakeman firmly into the friend zone. After all, she's just passing through Butterfly Harbor, and her life is too complicated for a summer romance. But Ozzy feels an immediate connection. Can he convince the woman of his dreams to take a chance on building a forever family with him?
Butterfly Harbor Stories
Book 1: The Bad Boy of Butterfly Harbor
Book 2: Recipe for Redemption
Book 3: A Dad for Charlie
Book 4: Always the Hero
Book 5: Holiday Kisses
Book 6: Safe in His Arms
Book 7: The Firefighter's Thanksgiving Wish
Book 8: A Match Made Perfect
Book 9: Bride on the Run
Book 10: Building a Surprise Family
Book 11: Worth the Risk