In His Million-Dollar Marriage Deal by Jennifer Hayward, Lazzero Di Fiore needs to find the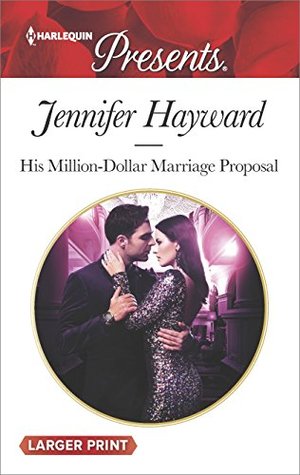 perfect woman to accompany him to a big event all so he can secure the most important deal of his life. However, Chiara is the only woman suitable for the job since she won't think there's more to their relationship than what it is – fake. Besides, she needs the money he's offering, so shouldn't their deal be a win-win for both? Yet, the more time they spend together, the more Chiara finds herself doing the one thing she shouldn't – falling in love with Lazzero. Will the pair achieve their happy ever after or will Chiara be left with a broken heart?
"Bene. Which brings us to the public story of us we will use."
She eyed him. "What were you thinking?"
"I thought we would go with the truth. That we met at the café."
"And you couldn't resist my espressos, nor me?" she filled in sardonically.
His mouth curved. "Now you're getting into the spirit. Except," he drawled, his ebony gaze resting on hers, "I would have gone with the endlessly beautiful green eyes, the razor-sharp brain and the elusive challenge of finding out who the real Chiara Ferrante is underneath all those layers."
I loved the first book of this series and have been looking forward to reading more about the Di Fiore brothers and how far they've come since what happened to them when they were younger and how they've managed to build their fortune in owning one of the best sportswear companies, especially Lazerro and his younger brother, Santo. The way this story started had me liking the close relationship the brothers share and I love how they tease each other about what's happening in their lives since Lazzero and Santo have quite the reputation when it comes to the ladies. However, it was from the moment the hero and heroine come face-to-face for the first time that had me smiling, as the hero isn't used to women denying him what he wants and what he wants is the heroine to help him by being his fake fiancée. Will he find a way to win her over, especially when he has so much to offer that can help her?
As for the dialogue, it was entertaining due to the main characters back stories because the hero needs Chiara to have any chance of pulling off the deal he wants because his ex is the wife of the man he's doing business with and it's palpable the woman would rather have the attention of Lazzero than her husband. Will Chiara be able to help Lazzero? Will his ex get a clue that the hero no longer wants anything to do with her? Moreover, the heroine is strong, feisty, brave and I loved how she handles herself when it comes to the hero's ex and dealing with the hero when she's annoyed with him. Will she be able to make him jealous? While the hero, he's confident and I liked how determined he was to get what he wants, especially when it comes to the deal of a lifetime that could take their company to the next level. I also liked how he handles things with his ex and the growing relationship between him and the heroine because he needs the advice the heroine gives him on the future of his company. What good is making as much money as the hero and his brother have made and continue to make when he no longer feels the passion he once felt when they first started their company? Will he ever be able to find his way back to the same passion he once felt?
"So," he drawled, his eyes on hers, "is that what is on offer to Mr. Right? Chiara Ferrante's heart if a man is willing to go all in?"
Her breath stalled in her chest. He was so gorgeous, so dark and brooding up close, it was impossible to think. "Stop playing with me," she murmured. "You are inherently skilled in the art of deflection, Lazzero."
"Who says I'm playing? Maybe I'm accepting your challenge. Maybe I just want to know the answer."
Overall, Ms. Hayward has delivered a really good read in this book where the hero faces an uphill battle when it comes to getting his deal and getting the heroine; the chemistry between this couple was strong and had me liking the playful banter between them; the romance was wonderful and shows that no matter how hard they try to keep their relationship fake that it's impossible for the pair; and the ending had me loving the hero's determination to make things right with the heroine because he wants more than their fake relationship. She's made him believe that there is more to life than business deals such as love and forever happiness. However, it was the epilogue that wrapped this story up nicely because the hero isn't above using such a happy day to prove to the heroine that she's the one for him and always will be. I would recommend His Million-Dollar Marriage Deal by Jennifer Hayward, if you enjoy the fake relationship trope, the opposites attract trope or books by authors Melanie Milburne, Michelle Reid, Penny Jordan and Sharon Kendrick.
Book Info:

Publication: June 19th, 2018 | Harlequin Presents | The Powerful Di Fiore Tycoons #2
"I have a business proposition for you."
Sealed with a million-dollar ring!To win the most important deal of his life, Lazzero Di Fiore needs a fake fiance. He strikes a pact with his gorgeous but guarded local barista Chiara: he'll save her father from bankruptcy, if she agrees to wear his ring! But any convenience is consumed by their explosive attraction. Now Lazzero is determined to see his diamond on Chiara's finger–for good!