Alaska Reunion by Jennifer Snow finds bookstore manager Ellie Mitchell facing her ten-year class reunion. She hates the thought of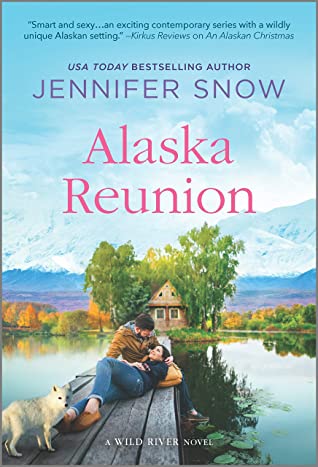 going, but is hoping to reconnect with her ex, who she believes is the man she's destined to be with. The only problem is that he's scheduled to attend with a supermodel. Ellie doesn't really want to go alone, and her friend and co-worker, Callum McKendrick, volunteers to be her plus-one. Callum has his own motives for going though; he's hoping this is his shot to prove to Ellie that he's the man who's right for her. When Callum announces they're engaged, things spiral out of control, and Ellie soon finds herself torn between the man she always thought she wanted, and the one she never knew she needed.
First off, I'll start with a warning. There is an attempted suicide in this book, so if that's a trigger for you, you may want to avoid this one. That being said, this is the fifth book in the Wild River series. I haven't read any of the previous books but had no issues following along, so I would say this works as a standalone. If you choose to jump into the series here, you should have no problems.
I loved Callum. He's under pressure to leave the bookstore and take over his family's company, which he wants to part of. I felt for him because he torn between obligation to his family and what he really dreams of doing. He's very patient with Ellie, giving her time to spend with her ex all the while subtly showing her that he's the better man. At times I felt frustrated for him, because Ellie seemed completely oblivious to what was right in front of her. I would have liked some more information about his mother and why he hasn't had anything to do with her. She's mentioned a couple times and I understood why she left her husband, but not why she left her children behind. I felt like if it was going to be brought up, it could have been clarified a little more.
I alternated between liking Ellie and wanting to ask what was wrong with her. Her character doesn't seem to understand that people change. What she had in high school was not going to be the same ten-years later, especially considering all the changes she noticed in her ex. Instead of looking towards the future, she was very much living in the past and expecting to see everything the same way she did as a teenager.
Alaska Reunion has a little bit of everything—drama, humor, friendship, and love. It's a well-written story that will draw readers in and have them rooting Callum and Ellie. I'd recommend it to readers who enjoy friends to lovers romances, or fake boyfriend/fiancé tropes.
Book Info:

Publication: August 24, 2021 | HQN Books | Wild River #5
Still single, still working at the same bookstore and still pining for the guy who got away, Ellie Mitchell cringes at the prospect of attending her high school reunion. She just can't face showing up alone—with her dreams of becoming a teacher still unfulfilled—when her ex will be bringing a model-gorgeous plus-one.
Callum McKendrick has been in love with Ellie since forever, but he's not sure his coworker takes him seriously. Offering to be her date for the reunion is his chance to show Ellie just what she's missing by being stuck in the past, but will becoming her fake boyfriend be enough to prove that Callum is her perfect match?