Sweet, Sexy Heart by Melissa Foster is the ninth book in her Bradens & Montgomerys: Pleasant Hill- Oak Falls series.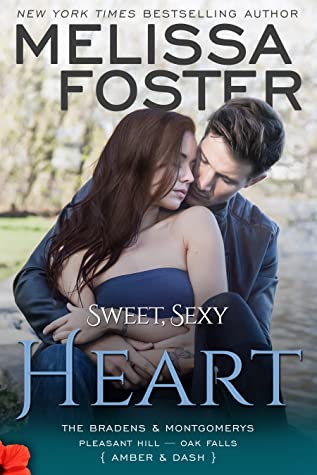 Heart melting romance, special friendships and Happily Ever After.
Amber Montgomery owns Story Time, a bookstore in Oak Falls, Virginia, fulfilling her dream of owning a bookstore. From the age of thirteen when Amber suffered her first epileptic seizure she has lived her life quietly, playing it safe. Until… she meets retired football star, motivational speaker and successful author Dash Pennington. When they first meet Amber firmly believes Dash is too much for her and her quiet lifestyle. Too active, over-the-top and not at all her type. Amber fought having Dash Pennington having a book signing at Story Time. She didn't believe her store was big enough for such a signing. She finally agreed. Good thing as that was a life changing decision for her. Resisting Dash was just impossible.
Dash Pennington decided he needed some down time so he arrived in Oak Falls early. One of Dash's good friends, Sinclair "Sin" Vernon, lives in Oak Falls so he is bunking at Sin's house and they plan to relax and have some fun before the start of Dash's book signing tour at Story Time Bookstore. Then he met Amber Montgomery. Dash never believed in love at first sight but after meeting Amber he did. He couldn't believe how perfect Amber was for him. The more time he spent with her the more he wanted to spend time with her. He researched and read about epilepsy and was prepared to support Amber and keep her safe. Now he just had to get Amber onboard with his plans.
Ms. Foster has added another notch to her super romantic story column with Amber and Dash's book. I can well understand how Amber couldn't resist Dash and so she fell head-over-heels in love with him He is so sweet, caring, inventive and romantic. Amber matches Dash with her loving, caring nature. I was totally immersed in their love story. From Dash's sweet plans to give Amber some of the fun high school highlights she missed to their joint acorn habit to Amber's sweet letters to Dash while he is on his tour this story is heartwarming, sexy and sweet from beginning to end.
Book Info:

Publication: August 4th 2021 | World Literary Press | The Bradens & Montgomerys: Pleasant Hill – Oak Falls #8
Discover the magic of New York Times bestseller Melissa Foster's writing and see why millions of readers have fallen in love with the fiercely loyal and sassily sexy characters in the Love in Bloom big-family romance collection. All Love in Bloom books can be enjoyed as stand-alone novels or as part of the larger series.
In SWEET, SEXY HEART…
Amber Montgomery is perfectly happy with her quiet life. She loves running her bookstore, taking long walks with Reno, her Labrador retriever seizure-response dog, and spending time with her close-knit family. She's never needed thrills the way some of her sisters have. In an effort to control her epilepsy, she tries to avoid anything that creates too much excitement or stress—including relationships. When Amber hosts a book signing for famed-athlete-turned-author Dash Pennington, he's everything she's spent her life avoiding: loud, aggressive, and far too handsome, as proven by the hordes of women who surround him everywhere he goes. Amber can't ignore the sparks flying between her and Dash, but this is a no-brainer for her: Ignore their chemistry and hold her breath until he leaves town.
Dash Pennington has spent his life running. Running the ball in for a touchdown, running from town to town to appease his public relations reps, and for years, running into the arms of too many women to count. He's also an expert at protecting—his reputation, his family, and lately, his sanity. But he's ready to make a change. When he comes to the sleepy little town of Oak Falls, Virginia, and witnesses the most beautiful woman he's ever seen living the life he craves, she refuses to have anything to do with him. But now that Dash has found the one thing he doesn't want to run from, he'll stop at nothing to win her over.
**
Within the Love in Bloom big-family romance collection, characters from each sub-series appear in future books.
Snow Sisters
The Bradens at Weston
The Bradens at Trusty
The Bradens at Peaceful Harbor
The Bradens & The Montgomerys
The Remingtons
Seaside Summers
Bayside Summers
Steeles at Silver Harbor
Wild Billionaires After Dark
Bad Billionaires After Dark
Harborside Nights
Tru Blue and The Whiskeys: Dark Knights at Peaceful Harbor
The Wickeds: Dark Knights at Bayside
Sugar Lake
Harmony Pointe
Silver Harbor