Alaskan Adventure (Destination: Desire, Book 4) by Crystal Jordan is a scorchingly hot romantic adventure taking place along the chilly Alaskan coastline.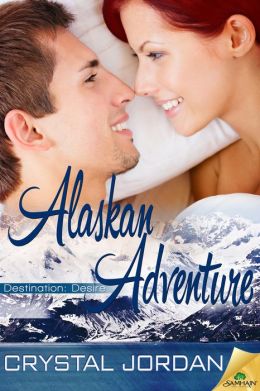 The two main characters, Anne Kirby, a fiery, yet uninspired physical education teacher, and Gabe Warren, a former successful coder turned adventure guide, are destined for a future together, they just don't know it yet. Not only is this cruise a dream come true for Anne, it is a long, overdue vacation from her life. For the last ten years she has happily taken care of her younger sisters, in addition to babysitting her lazy and manipulative mother. Gabe has a wonderful family and gave up the daily grind years ago in order to earn a modest living while exploring the great outdoors. Being financially secure only added to his ability to be free.
From the moment their eyes meet, Anne and Gabe feel a sexual tug. It doesn't take long for them to give in to their desires and explore each other in the shower, on the bed and against the wall. Each encounter brings them closer together both mentally and physically. With Gabe's parents on board, along with Anne's friends cheering them on via phone-waves, it is no wonder they fall in love in three weeks time.
I really like this series because it gives me the opportunity to tour new places without leaving the comfort of my easy chair. Who knew a person could climb a frozen waterfall, which is so cool and fascinating to read about. Ms. Jordan crafts the setting with equal importance to the plot and characters, which always results in a winning combination. I found Anne to be a fascinating character, due to her maturity, belief system and sexiness. I loved Gabe, and not only because he is eye candy, but because he is gracious, lovable and good to his family.
This is a terrific novella and so are the first three books in the series. In a nutshell, if you have some free time and want to read a sizzling romance, look no further than Alaskan Adventure.
Book Info:

Publication: December 9th 2014 by Samhain Publishing | (Destination: Desire, Book 4)
Anne Kirby is the queen of suck-it-up-itude. Thanks to her unreliable, drama-llama mama, it fell to Anne to raise her three little sisters. Now that the youngest is off to college, it's her turn to spread her wings.
She's looking forward to three solid weeks cruising Alaska's Inside Passage, with plenty of kayaking, hiking, and ice climbing. Until her tour guide turns out to be not—repeat, not—her type. A scruffy bum who can't hold down a real job. Never mind he's the only man who's ever kept up with her trademark, rapid-fire sarcasm.
Thanks to some timely computer programming patents, Gabe Warren is free to live his life as an adrenaline junkie. But nothing has ever gotten his blood pumping like the beautiful, smart, sassy PE teacher.
When their spirited arguments land them in bed, passion flares like the Northern Lights. Soon he can't imagine life without her. Now if he could only convince her that her perfect job isn't safely inside a school gym. And that a vagabond like him is the perfect travel—and life—companion.