Alaskan Showdown by Sarah Varland is the second book in her Raven Pass Search and Rescue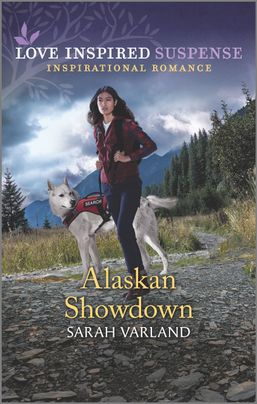 series.
Adriana Steele is a member of a search and rescue team in Raven Pass, Alaska. Her dog Blue is a cadaver dog and can also search for live victims. Blue has the exceptional skill of scenting a dead body underwater. On the present search Blue alerted in the middle of a lake during their search for a missing hiker named Lara Jones. Subsequently it was ascertained that the woman was actually the victim of the area's serial killer.
Adriana had participated in other searches where the victims weren't found alive but this time felt different. When Officer Levi Wicks started talking to her about the discovery of the body for some reason she fell apart. She has experienced panic attacks before but it was disquieting to break down in front of Levi. Somehow he made her feel okay about it though. When Levi mentioned he suspected this was related to the serial killer case he was investigating Adriana knew she had to offer to help even if it was assisting Levi Wicks.
Adriana's impression of Officer Wicks from past encounters is that he is laid back, too easy-going and seems to lack concern. Working with him told her she has been all wrong in her thinking of him. She now finds him super dedicated, focused and caring. Adriana is still mourning the loss of her boyfriend five years ago when the ice on a lake cracked and he fell through on his snow machine. She isn't ready to dip her toe into the relationship waters yet. Or is she?
Officer Levi Wicks is working a serial killer case. When he got the call about the recovery of the body of Lara Jones from a local lake he didn't suspect it could possibly have anything to do with the case he was investigating. But it did. The woman's body was found with the same zip ties used on the murder victims. Dumping the body in the lake didn't fit the serial killer's MO though. Adriana Steele, along with her cadaver dog Blue, ended up being a real boon to his investigation and his life as she offered to help him with his investigation. Levi hasn't gotten over his ex-wife cheating on him yet and Levi fights his attraction to Adriana.
This story has a lot of emotion involved. The main characters both have to overcome the difficulties of their pasts. The storyline is interesting. I found the writing style to be a little choppy at times but I enjoyed the story.

Book Info:

Publication: August 1st 2020 | Love Inspired Suspense | Raven Pass Search and Rescue
What she uncovers sheds light on a cold case…
and can put her in a grave.
After finding the body of a missing hiker in her small Alaska town, search-and-rescue dog handler Adriana Steele becomes the target of a serial killer thought to have been inactive for decades. Now Adriana's determined to help Officer Levi Wicks catch the murderer. But with the cold case heating up…the jaded officer is all that stands between her and death.