In All I Need is You (Loving You #2) by Wendy S. Marcus, after months of exchanging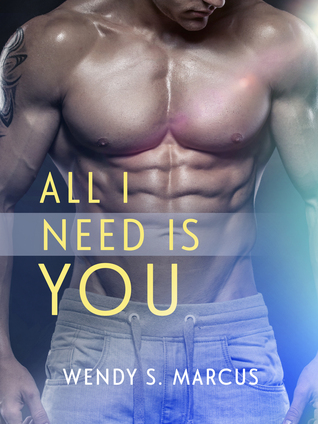 a bunch of steamy letters marked 'Read while you're alone' with soldier, Rory McRoy, during his deployment in Afghanistan, Neve James thought she'd found the perfect man. However, when she visits him in Boston during a time when he's stateside, she discovers he's been lying to her..
"I warned you not to come back here." Nate snapped at Rory. "And why are you sniffing around my sister when you have a fiancée?"
For months after Neve left him due to a simple misunderstanding, Rory McRoy has tried desperately to get her attention. In hopes of proving to her that he's not the lying, cheating jerk she believes him to be. Now that he's home for good, there's no better way than to confront her in person. Even knowing that getting back on her good side will be tough, he's more than up to the challenge.
This book was a charming, emotional and heartfelt tale that gripped my attention immediately, and continued to keep me entertained right to the end. Its plot was fast-paced, and the letters add spice to the story right from the get-go. They're a way of Rory and Neve really getting to know each other, but with a sexy twist. It seems no topic is left unexplored.
"I am going to strangle you. For real. Don't think I'll let your bulging eyes and blue lips stop me. I'll keep right on going until I squeeze the life right out of you."
"For a vibrator," he said calmly. "You need it so bad you're willing to commit murder?"
The dialogue flowed really well, and was a tad emotional due to both their back stories. Yet, it also provided several laughs, especially when Neve was threatening Rory. She has some serious anger management issues, and wasn't afraid to unleash her anger on someone when she thought it was warranted.
"I would have explained right then and there, I swear it—"
"But I punched you in the throat." Damn temper.
"And tried to force my nuts up into my windpipe."
I really liked both characters. Neve is headstrong, bold, tenacious when it comes to achieving her dream, and altruistic in helping someone she barely knows, which doesn't turn out so well for her. Then there was her back story. It was a bit heartbreaking. For her to learn the secret that she did at such a young age had quite the effect on her. It explained her wanting attention, and making bad decisions when it came to men.
While with Rory, he's strong, and driven to prove to Neve that she can trust him. However, it's hard for him to do that, when his time overseas as a soldier has left him with post-traumatic stress. The moments when he has, what he calls episodes scare him. Yet, being with Neve helps him deal, and heal a little at a time. It's amazing how much she does help him in those moments. Their playful banter, their arguments, it all builds the sexual tension between the pair, which eventually explodes onto the pages in some very sizzling sex scenes. Rory definitely has skills, and treats her right. For the first time, she experiences what it's like to be wanted for more than just her appearance.
Overall, I really liked All I Need is You by Wendy S. Marcus, and the moment Neve finally decides what is most important in her life was great. How she goes about getting it is even better, because a certain conversation needed to occur, for her to be truly happy. I would recommend this story, if you're a fan, of books where the hero and heroine help each other to heal from the pains of their past.
Book Info:

Publication: October 6th, 2015 | Random House Loveswept | Loving You #2
Perfect for fans of Kristan Higgins and Robyn Carr, this sexy yet sweet military romance reunites a headstrong dancer and a rugged army soldier after one steamy encounter tears them apart.
As a dancer who creates mesmerizing visions onstage, Neve James is looking for the same kind of stability in her love life. Her pen pal, Rory McRoy, is on leave from deployment in Afghanistan, so she heads to Boston to surprise him. After corresponding for months as part of a "Support Our Troops" initiative—and exchanging dozens of "Read When You're Alone" letters—Neve knows what Rory likes, and she intends to fulfill his every fantasy. But all they get are a few blissful moments together before they're interrupted by a woman claiming to be Rory's fiancée.
Rory has fallen hard for Neve's letters. When he finally meets her in person, he has to have her, right then and there—until Neve takes off in a fit of anger. Forced to return to Afghanistan before he can fix things between them, Rory waits four agonizing months to prove that he's not the man Neve thinks he is. But by the time he arrives in New York, she's already made up her mind. Luckily, Rory never backs down from a challenge, and he's prepared to put everything on the line for love.