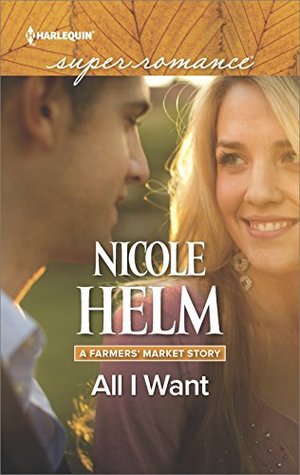 All I Want by Nicole Helm: All I Want is the third story in Nicole Helm's A Farmers' Market Story series. I read the first two, All I Have and All I Am and enjoyed them both immensely. The author has the knack of writing entertaining, heartwarming and sexy romances with an emotional undertone that makes the reader alternately want to laugh or cry (and usually a little bit of both). They fit in excellently with the Harlequin Superromance line and the entire series is one worth having on your shelf.
Charlie Wainwright grew up in a farming family but never felt like he really fit in. His brother Dell took to the family business and has a successful farming operation, running a stall at the local farmer's market with his wife Mia. Charlie is a businessman – numbers are what he knows and does best. When he gets laid off from his sales job after ten years of loyal service he's at a loss as to what to do. But there's no doubt that whatever comes next, a drink won't hurt. That's how he finds himself at a local bar, sitting with Meg Carmichael. Meg has her own set of problems, the latest being the death of her beloved grandmother and when handsome Charlie and she hook up for the night, it's supposed to be a one time thing. She has her path set for her, one day at a time at her goat farm, staying clean and sober after a long struggle with addiction. But fate is a fickle thing, and when Meg ends up pregnant from her one night with Charlie, it's the start of something between them. Will it be enough to bind two bruised souls into a newly healed family?
I should know by now to keep a tissue or two handy when I read a book by this author because she has the knack of pulling at your heartstrings in a subtle manner that lends itself to getting teary eyed in no time. The struggles that Meg has gone through to become an independent and strong adult are evident right from the start. Her fractious relationship with her parents and their emotionally abusive treatment of her is a big reason for her addiction problems, but at the same time she's faced the consequences of her own behavior and built a new life for herself. Goat farming may not have been her dream as a child (and for her parents it's yet another reason to disparage her) but goats don't talk back, they don't tell her she's doing things wrong, and they need love and care that she can provide. Her goat's milk soaps and lotions keep her farmer's market stall busy and she has a plan for her life – one that she never dreamed would include having a child with her one night stand. But from the moment she finds out she's pregnant she loves her unborn child unconditionally and will do anything and everything to keep him or her safe and protected.
Charlie grew up in a much different environment than Meg, but he's still kept himself emotionally distant from his family He has a good relationship with his parents but he's never really connected with his brother (though that has improved since his brother got married). He feels that his family doesn't understand him. In reality though, they are not completely at fault as he never gave them a chance. His career is what has always defined him – until it doesn't. Having an uncertain future puts Charlie in the unenviable position of having to rely on his family for help. When Mia and her sister Cara ask him for marketing help for their small businesses while he's laid off he reluctantly agrees. But he soon finds that he enjoys it. It's much less stressful than his old job, and it also makes him feel good to know that his suggestions are valued. Plus, finally it looks like his family might need him after all.
Charlie and Meg together – well that's a work in progress. Charlie might have been a little jealous of his brother finding a partner and having children but he'd never thought of that for himself. And he certainly never thought of doing things backwards – making the baby before having the relationship! He and Meg are on tiptoes at first, taking tentative steps towards friendship in hopes that they can be equal parents to the new life they've created. The spark of attraction that drew them together that fateful night hasn't gone away though, and even as they agree that it would be foolish to get involved in a sexual relationship that could complicate things, it happens anyway. They share some steamy scenes together, mixed with some awkward and endearing moments. No matter what happens between her and Charlie, Meg is resolute in knowing that she will have her farm and her baby. She is in a fixed position – it's Charlie who is the fluid one, who must decide if he is willing to give up his former lifestyle for her and the baby. I admired Meg's strength even as I sometimes wanted to shake some sense into Charlie. In the end, after some laughs and some tears, Meg and Charlie stand firm together ready to make a loving family for their child. I love how the story played out, the scenes with family and friends adding richness and detail to this small farming community. All I Want is another fine addition to this series and I highly recommend them all.

Book Info:

 Sep 1 2016 | Harlequin | A Farmers' Market Story # 3
This couldn't be happening…not to him!
For Charlie Wainwright, the only way to live is according to plan. But a corporate layoff and one hot night with Meg Carmichael has thrown him off course. He doesn't know how to handle the pretty goat farmer, much less the news that they made more than conversation that night.
Suddenly Meg is pregnant, and Charlie wants to do the right thing. Meg and all she's hiding don't belong in his world, and his suits and ties don't belong on a farm. But a promise to do what's best for the baby might show them what matters most…