Christmas Promises is a beautiful anthology by Lynne Graham, Carole Mortimer and Marion Lennox – 3 stories with whirlwind romances and Christmas marriages.
All three stories are very romantic and interesting. The best part is that you get a story that you can read on a break, but will not leave you feeling like there was something missing. The characters are well developed and the stories are great. I hope you enjoy it. 😉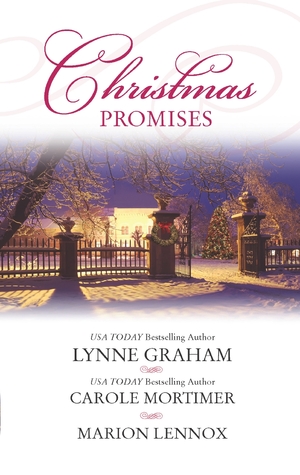 The Christmas Eve Bride by Lynne Graham
Rocco believes that he has been over the woman he loved two years ago, over his love for her as well as her betrayal. But after seeing her from the window of his friend, he can't help but to go after her again.
Amber had been setup, and lost the man she loved when she needed him most and she lost her job. Now after 2 years she is finally trying to make something of her life and be able to be independent and care for her child.
After Rocco sees her they can't deny the chemistry still between them. But after so many things that split them apart, they will have to be open to listening and believing if they are to finally be the family they were meant to be.
A Marriage Proposal for Christmas by Carole Mortimer
Cally Turner is a single mother and only wants the best for her daughter. She has been happy living in the country with her daughter, that is until Noel Carlton moves in and becomes her neighbor. Now she can't stop thinking about him or about his playboy ways.
But when Noel calls the Celebrations, her and her sister's company, for help to decorate and prepare his house for the Christmas before his mother, stepfather and his siblings arrive she had no choice but to spend time with him.
Now as she falls in love with him she will get to see the real him and realize all the assumptions she made of him were mistaken.
A Bride for Christmas by Marion Lennox
Guy Carver is known as a successful and most sought after wedding planner. He is used to just walking in and getting things done his way. But when he arrives in Australia to take ownership of Jenny Westmere's wedding salon he is surprised that his taking over has already been announced there. Now he has the locals wanting to make their wedding into a Carver Wedding.
Jenny has been handling the wedding salon since her mother-in-law's heart attack that left her in a wheelchair. When the opportunity came to sell at a great price that would help pay more for her son's medical needs she took it, believing that she would still be able to be manager of the salon.
After Guy opens her eyes to what position she is really to have, she quits on him, after accepting the biggest wedding and first Carver Wedding for Australia to be organized in about 10 days. Leaving Guy to have to think about either cancelling such a big event or groveling for her help to organize such a huge event.
After many days spent together and after meeting her family, Guy will have to find a way to keep the woman that has been getting under his skin along with her son and in-laws or risk being alone again after loosing his heart.
Rating