All Over the Place by Serena Clarke is about a humiliated woman who just wants to find her place in life out of the spotlight.
Livi Callaway believes she has the perfect life in New Zealand, She has a good job working with her family and a handsome boyfriend that just asked her to marry him.. But life is about to change for her when her fiancée cheats on her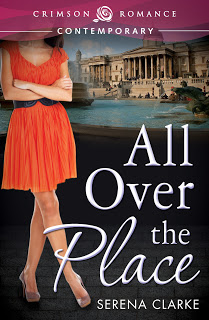 in front of the cameras and her humiliation is filmed and showed nationally.
After that catastrophe, Livi decides to go back to the place where she was born, back to London. Now she is the manager of Peach Salon, and is happy with her friends and co-worker. Until one night on the tube she runs into an American, who strikes a conversation with her. But with all the people there, his satchel's buckle get stuck on her bag's buckle when he is exiting the tube. Now she is stuck with a satchel to return to a man she doesn't even know they name of.
And so her adventures begin. With the help of her friends, Mia and Cass, Livi starts following the clues from a map and an A-Z guide in the satchel to try and locate her mysterious American.
For me the story has a lot potential, Livi is a likeable enough character if with some very lusty flaws. But personally I did not like that about 25% of the book was about her past and showing her entire relationship with her ex who for me only deserved a few pages of thought. 50% of the book was Livi chasing a man all over London and even Paris, who she didn't even know for more than a few minutes. And the last 25% was her trying to decide if to follow the unknown man or choosing to follow her best friend and the man who truly loves her. I prefer to see the actual relationships to develop and not be almost like an afterthought with just some hint here and there about their relationship.
If you want to read about the adventures of Livi, please read the book, but keep in mind that the actual romance begins at the end.
Rating: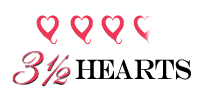 Book Info: Publisher: Crimson Romance (February 18, 2013)
Livi Callaway has fled back to London after being humiliated on national TV in New Zealand by her unsuitable but irresistible fiancé, a contestant in a reality dance show. Safely anonymous in the big city, she's determined to stay under the radar. But her attempts to build a new life are complicated by unexpected visitors from her old one, and new dangers and temptations lie in wait.
Late one night, she meets a mysteriously sexy American on the Underground – and the events that follow take her from Pooh Bear to the golden lights of Paris, via a trail of rock stars dead and alive. A family in disarray, a determined Swede, a crazed Australian, and a childhood friend (who might yet be more than that) have her all over the place as she tries to discover the American's secret – while keeping her own.
With help – and occasional hindrance – from her friends, what she eventually finds is something unexpected . . . sometimes, running away can lead you to exactly what you didn't know you needed.
Sensuality Level: Behind Closed Doors