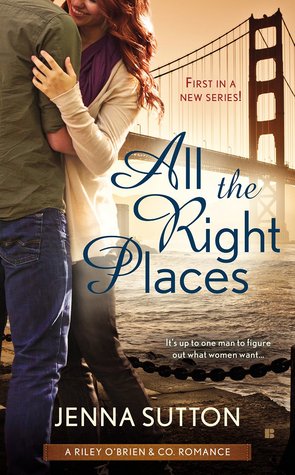 All the Right Places by Jenna Sutton: Amelia has found a measure of success since her best friend has become Nashville's newest star and loves to wear Amelia's designs. She's somewhat unsure of her own talent she was never formally trained. When she gets the chance to design for an iconic denim company, she jumps at the chance.
Quinn is leading his family's iconic denim company and determined to make sure it succeeds during a transition in leadership. He's not thrilled when his sister springs the news of a completed deal for an accessories line designed by Amelia on him minutes before he's due to meet her. Quinn is a planner and hates surprises.
Amelia quickly wins Quinn over during their first meeting. However, Amelia realizes that they have a problem. They both experience the immediate attraction, and plan to minimize complications by avoiding each other for their own reasons. Life has other plans, and they tend to find themselves together.
"A reward, huh?" he asked, his eyes gleaming with blue fire from the overhead can lights. His look make warmth trickle through her.
"I can see that you have something in mind. What?"
"Dinner. Tonight." He cleared this throat. "With me," he clarified as if he were worried she would misunderstand his invitation.
Their attraction gets to be too much and they give in one night. Quinn isn't a man who has to pursue women, but he pursues Amelia. Amelia brings out another side of Quinn.
"What about talking?"
She was confused. "What do you mean?"
"Can I talk while you take off my boots?"
"Sure."
He nodded. "I accept your terms." He twirled his finger in a motion that indicated he wanted her to turn around. "Get busy."
The more time that they spend together, the more they like and respect each other. Their relationship becomes more serious, which creates all sorts of problems for Amelia due to her secret project.
All the Right Places is an entertaining contemporary romance where the backdrop is an iconic company undergoing significant changes. Jenna Sutton created a family-oriented cast of characters. Ms. Sutton created a very determined character in Quinn's sister. She comes across as selfish and shortsighted, so it'll be interesting to see how Ms. Sutton will redeem her in the next book in the series. Fans of Jessica Topper would enjoy All the Right Places.
Book Info: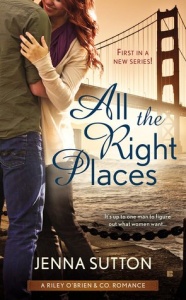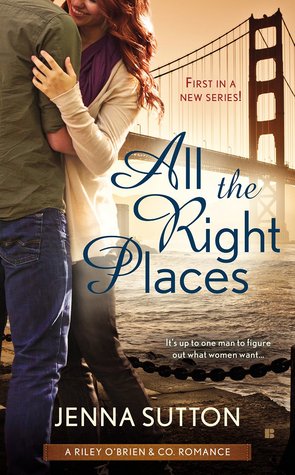 June 2nd 2015 | Berkley | Riley O'Brien & Co. #1
The first in a brand new contemporary romance series starring the men and women who are determined to keep the billion-dollar denim dynasty, Riley O'Brien & Co, on top, but aren't about to let success stand in the way of love…
Amelia Winger is a small-town girl with big dreams of becoming a successful designer. So when she gets a gig designing accessories for denim empire Riley O'Brien & Co., it's a dream come true. Amelia can handle the demanding job, but she isn't quite prepared for sexy CEO Quinn O'Brien. She's doing her best to keep things professional, but the attraction sparking between them makes it personal. And so does the secret project she's working on behind his back…
Quinn's not interested in the new accessories, but he is interested in the woman designing them. Amelia is smart, sexy, and talented, and he hasn't been able to stop thinking about her since they met. Mixing business and pleasure isn't wise, but that doesn't stop him from coming up with excuses to spend time with her. He thinks he understands the risk he's taking when he gets involved with Amelia. But he doesn't know he's risking a lot more than his heart.