In Allegiance of Honor (Psy-Changeling #15) by Nalini Singh, The Trinity Accord is on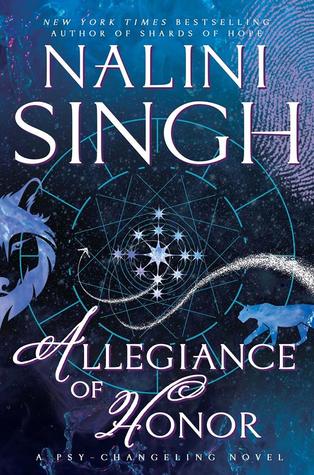 the mind of every Psy, Changeling, Forgotten and Human in the world today. To say there is a lot riding on its success would be an understatement. And no one knows that better than the DarkRiver leopards. Their Changeling alpha Lucas and his Psy wife Sascha have recently become a focus because of their daughter Naya. There are some who see the half-Psy/half-Changeling child as hope of a new integrated future. But there are also those who see her as a threat to everything they stand for.
'When the Trinity Accord was first proposed, she'd hoped her pupcubs would be born into a world at peace. Today, she accepted that it was going to be a far more complicated, and far longer, process.'
With threats being made against Naya, the impending birth of leopard Mercy and wolf Riley's pupcubs means more security is needed for both the DarkRiver and SnowDancer communities. And while they strive to continue building their alliance between the groups, outside forces are plotting their next attack. So with old enemies rearing their ugly heads, new issues being found with PsyNet, a Changeling at the mercy of tormentors, and Arrows still learning to show emotion post-Silence, the world has only grown more complex. It will be up to those who created the Trinity Accord to find a way to put an end to the evil and find a balance with which everyone can live.
'Heroes, I've learned, don't always wear white. Sometimes they come from the darkness, shadows among shadows.'
The fight for freedom and peace continued in Allegiance of Honor, the fifteenth book in Nalini Singh's Psy-Changeling series. The stakes were raised, the tension amplified, and new alliances were made in this exciting installment.
'Changeling, Psy, and Human alike believed Trinity protected them from the Consortium's machinations, but the Consortium's attempts to sow discord between various groups and promote general chaos had been just the first salvo.'
Allegiance of Honor was absolutely breathtaking. It touched upon so many complex issues that our world faces today, but of course was focused within the worldscape Singh has created of Changelings, Psy, Humans and the Forgotten. Never have I read a book in this series where the sense of family, community and friendship has been shown so clearly. The positive changes that have taken place within the different groups post-Silence has been a joy to watch. Especially seeing the children, pups, cubs (and pupcubs!) all grow and learn to use their emotions.
Singh's books are always written with an inherent intelligence and an eye to detail. This was certainly no different. What was a bit different was that this was more of a compilation of beloved characters without one single couple being the focus. There were two couples who did appear more often, Lucas & Sascha and Mercy & Riley, but a lot happened across all the groups here. Since there were so many previous characters and the world they live in changes so much with each new book, I would caution readers that it would be a tad difficult to read this as a standalone.
I have to admit that my favorite part–aside from the cuteness of the cubs and pups–was getting an inside look into Father Xavier's private diary and the letters he wrote to his Nina. They showed his evolution over the years, starting with the attack on their village, then finding himself in San Francisco befriending two Arrows, and then going abroad to search in earnest for her. Xavier's writing was so poignant and heartfelt that it easily conveyed how much he longed to be reunited with Nina and how much he grew by allowing himself to get to know people he had once feared and blamed. Those passages were touching and utterly moving.
Things are gearing up for some explosive events to take place in the future. I think fans of this series will love what happened in Allegiance of Honor and will be eagerly anticipating how things will play out from here.
Book Info:

Publication: Expected publication: June 14th 2016 | by Berkley | Psy-Changeling #15
The Psy-Changeling world has undergone a staggering transformation and now stands at a crossroads. The Trinity Accord promises a new era of cooperation between disparate races and groups. It is a beacon of hope held together by many hands: Old enemies. New allies. Wary loners.
But a century of distrust and suspicion can't be so easily forgotten and threatens to shatter Trinity from within at any moment. As rival members vie for dominance, chaos and evil gather in the shadows and a kidnapped woman's cry for help washes up in San Francisco, while the Consortium turns its murderous gaze toward a child who is the embodiment of change, of love, of piercing hope: A child who is both Psy…and changeling.
To find the lost, protect the vulnerable—and save Trinity—no one can stand alone. This is a time of loyalty across divisions, of bonds woven into the heart and the soul, of heroes known and unknown standing back to back and holding the line. But is an allegiance of honor even possible with traitors lurking in their midst?