In America's Sweetheart (Real Love #5) by Jessica Lemmon, Allison and Jackson were so good together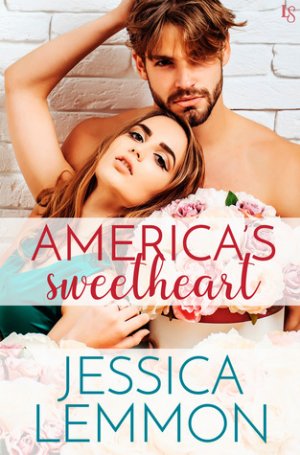 until they weren't. While she stayed in Hollywood and built a career as an actress, Jackson stayed in their hometown working for his father and then finally going out on his own. However, when Allison finds herself in trouble with the press, she returns home and Jackson's determined to avoid her, which doesn't seem possible considering he's remodelling the house where she'll be residing. Will Jackson and Allison get their second shot at happy ever after or are their lives too different now for the pair to ever be together?
"Does that happen often?"
"Only everywhere I go. I should've worn the wig. But it's too hot."
"Who cares if they recognize you?" I unlock the truck. Allie clambers into the passenger side before I can open the door for her. Just as well. It's not like this is a date.
"I care. Did you hear her? She thinks I'm horrible."
"No. She thinks Nina is horrible. You're not Nina." I slant a glance at Allie, who's clearly taking the girl's comments hard. "If you would've said you were Nina you'd be posing for a selfie and signing an autograph right now. Next time own it. People are too polite in the Midwest to be cruel to your face."
Every book of this series is entertaining and filled with wonderful characters and this story was no different. Really, the way this story started with the prologue drew me in immediately, as Allison and Jackson were so in love, but the pair going their separate ways was inevitable. Since the heroine wasn't happy with her life and needed something more, which was how she wound up in Hollywood and going on to be a star. However, it was from the moment the hero and heroine come face-to-face when she returns home where this story really takes off, as Jackson and Allison tip-toe around each other at first because they still have feelings for each other, but Jackson is determined to ignore his for fear of getting hurt again.
As for the dialogue, it was intense due to the main characters back stories, their past history and everything the heroine is going through with her career on the line because of the incident. Will she be able to find a way to turn things around? Moreover, the heroine is resilient, courageous, driven and I liked how she goes about getting herself some good publicity, even though it feels as though she's using Jackson at times to get that good publicity. However, in saying that, it's palpable that Jackson is willing to help her because he still has feelings for her. While the hero, he's hard-working, confident, charming, kind, caring and I liked how determined he was to help the heroine because she doesn't deserve what's happened.
"Right now is about living in the moment — a great moment."
"I haven't had a lot of great moments lately."
"I know." He touches me, just a soft brush of his fingertips to my face. "But you're about to have a few really great ones with me."
Overall, Ms. Lemmon has delivered a really good read in this book where the chemistry between this couple was strong; the romance was delightful and had me glad these two gave each other another chance; and the ending had me worried for this couple's relationship because of what happens, but had me liking the heroine's determination to make things right with the hero because she's always loved him and isn't about to give up on the pair being together. However, it was the epilogue that wrapped this story up perfectly because of how things work out for the heroine when it comes to her career and the decisions the hero made to cement his future with the heroine. Then again, Hollywood isn't all bad. I would recommend America's Sweetheart by Jessica Lemmon, if you enjoy second chance romances or books by authors Lauren Layne, Erin Nicholas, Samantha Chase and Layla Hagen.

Book Info:

Publication: October 2nd, 2018 | Loveswept | Real Love #5
Allison: When I left for California, I gave myself a new name and never looked back. Now my carefully crafted good-girl image is getting torn to shreds in the press thanks to my Oscar-winning A-hole of an ex-boyfriend. So I escape to the only safe haven I know and trust—my hometown—to take a breather while I plot my triumphant Hollywood comeback. However, when I arrive at my parents' house, Jackson Burke answers the door instead. And suddenly the past comes rushing back. . . .
Jackson: First kiss. First time. First love. Yep, Allison Murphy and I shared a lot of firsts back in the day. When she left, she took half my heart with her. Now she's back in town, and even though I swore I'd keep my distance, her parents hired me to remodel their house, and I'm going to finish the job. But one hot kiss later, suddenly the press is calling us the next big celebrity couple. Sure, I'll play the part, for Allison's sake—but I refuse to let her close enough to break my heart all over again. . . .