Beautiful Sinner by Sophie Jordan: Gabriella couldn't escape Sweet Hill fast enough after graduation. She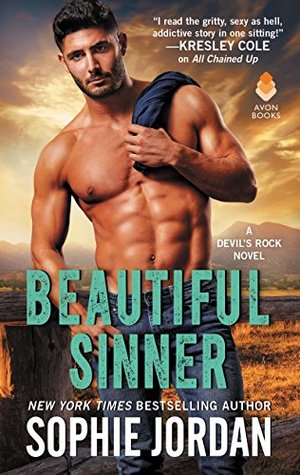 wanted to leave her past behind, especially the "Flabby Gabby" nickname and bullying she could never escape. Gabriella grew to be self-conscious of her curvy figure and instead focused on succeeding at school and in her career. Things have taken a turn since she's returned home to care for her grandma and is working at a coffee shop instead of as a journalist.
Cruz knows that he'll never change people's minds about him. Expectations were rather low for him to begin with and his murder confession sealed what everyone thought would be his fate. Being exonerated for a crime he never committed hasn't changed anyone's opinion, but he stays to be close to his family. He's always been a sexy bad boy, but now he's the owner of a gym and runs after school programs for kids.
Gabriella and Cruz went to high school together and she had a massive crush on him. He was always seemingly out of her league. A lot has changed for both of them, but she's even more attracted to the grown-up version despite him being off-limits. Gabriella never wanted to return to her high school, but getting locked in a closet with Cruz is both a dream come true and a nightmare.
She lifted her chin and continued, "I just didn't expect you."
"I said I'd be seeing you again."
"Yes, and I wanted to see you. For that interview," she reminded archly.
His face went cold. "I didn't agree to an interview."
Cruz is very realistic about his life and his likely future. He knows that Gabriela isn't the type of woman for him, but he also can't resist her. He's persistent in pursuing her and showing her just how good they could be together. Despite being a journalist, he can't stay away from her and how different she is from her family and the other residents of Sweet Hill. He tempts her like no other, and more importantly, makes her feel beautiful and cherished.
"I'm not the same naïve starry-eyed girl obsessed with you."
He smiled. "You were obsessed with me? Interesting."
"No! Not…obsessed."
Beautiful Sinner is entertaining, emotional, and steamy. Sophie Jordan created strong, independent main characters who live for their families. Ms. Jordan provided a unique story, conflict, heat, anticipation, and complicated family dynamics. Beautiful Sinner can be read as a standalone book in this series. Fans of Laura Kaye and Katie Ashley will enjoy Beautiful Sinner.
Book Info:

Publication: Expected publication: October 30th 2018 | Avon | Devil's Rock #5
Locked in with the town bad boy . . .
Most women would be scared, but Gabriella's only worried about resisting Cruz Walsh, who's even hotter than he was back in high school. Cruz was wrongly accused of the high-profile crime for which he was imprisoned; Gabriella's desperate for the scoop that will get her career off the ground and get her out of Sweet Hill, where everyone still remembers her as "Flabby Gabby." Being stuck in a supply closet with Cruz is the perfect opportunity to land an interview. What Bri doesn't count on is Cruz taking "up-close and personal" to a whole new level.
If there's a silver lining to the hell Cruz went through, it's that losing his freedom put everything in perspective. Maybe starting over someplace new would be easier, but after years locked up, Cruz values his family—and his true friends—more than ever. So he's back home, facing the gossip, dodging reporters . . . and face-to-face with Gabriella Rossi. They've both changed: Bri wants a story and Cruz just wants her. Another thing he's learned? Don't let a good thing slip away.