In An Incurable Insanity by Simi K. Rao, Shaan Ahuja finally gives in to the family pressure and agrees to an arranged marriage to a proper Indian bride, Ruhi Sharma.. His last foray into matters of the heart with an American girl had left him scarred and unwilling to try again. Marriage for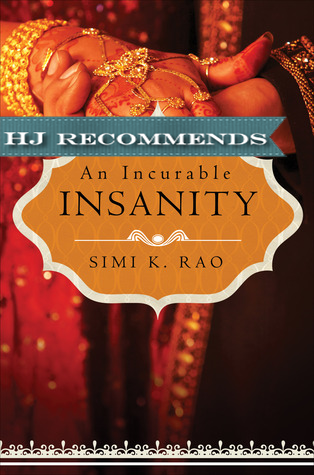 him would be in name only and he makes the same clear to Ruhi on their wedding night. But will Shaan's decision be fair on a girl who has woven so many dreams around her marriage..??
"Shaan, please!"
"Shh…Don't interrupt me now." His breathing turned ragged
as his fingers gently tucked a lock of hair behind her ear.
"Kissing those lips may be taboo, but that doesn't include the rest
of you." He mumbled nibbling at her ears, her throat, and her
nude shoulders.
She let out a soft moan.
"Like it, don't you? Give in to me."
An Incurable Insanity is an Indian Contemporary Romance about finding love in a marriage of convenience. This is the kind of romance where the protaginists play hide and seek with their true feelings for a really long time. If they would just sit and communicate, the story would have ended a lot sooner. Ruhi is devastated when she learns on her wedding night the truth of her marriage and her husband's love for his office colleague. The decision she takes after learning the truth can be only understood if you keep yourself in her shoes because being born and brought up in India, Ruhi takes most of her decisions like most Indian women would have taken in her situation. She did become irrational and immature during the later part of the book but I liked her most of the times because she did manage to rectify her mistakes. Shaan started out as a real insensitive hero but I fell in love with him when he started the task of wooing Ruhi back. The wooing back forms the major part of the novel along with some trouble from "the other woman".
The only problem was the length which could have been reduced and towards the end Shaan's chasing Ruhi and her running away was getting a little tedious. There are some lines written in Hindi and Bengali so that might be problematic for some readers.
Jerking her close, he muttered, "You are a royal bitch!"
Her eyes widened with surprise at his boldness. "Yes, of the
worst kind! Want to still live with me?"
She held her breath as he bent his head infinitely closer.
"I want to die with you…Koi Shaq?" His voice had become
a throaty whisper muffled further by the wind. "My patience is
wearing very thin."
Ruhi could sense the static in the air, her hair whipping about
her face mimicking her excitement. "Don't walk off that cliff yet,
our time is yet to come."
Overall, An Incurable Insanity is a very well written Indian Contemporary Romance with all the elements which would appease any die heart romantic. If you love marriage of convenience and want a romance with lots of turns then give this book a read.
Book Info:

 HJ Recommends
Published July 2nd 2013 by Tate Publishing
Her heart fluttered when she heard the sound of the key turn in the lock. She quickly adjusted her maroon silk sari with the yellow border, the one that had caught his eye, and waited eagerly for his footsteps.
One, two, three, four, five, six, seven… Yes, exactly seven steps before he stopped, hesitated for a few moments, then removed his shoes one by one and arranged them neatly side by side on the shoe rack.
She smiled. He had been mindful of taking his shoes off every day now. "I am not used to it, but I will if you want me to. It's probably a good thing to do anyway."
As he settled down, he would pick up the TV remote and, without looking at her, would say in his smooth baritone, "So how did you spend your day, anything interesting?"
Shaan Ahuja found himself bowing to tradition and agreeing to an arranged marriage to the beautiful Ruhi Sharma. He went through the motions but had no intention of carrying through on his vows. His last foray into matters of the heart with an American girl had left him scarred and unwilling to try again. Thoroughly disillusioned and disgruntled he wasted no time in making his intentions clear to Ruhi on their wedding night. But, he was completely unprepared for what his new wife had in mind.