In An Insatiable Passion by Lynne Graham, Eight years ago Kitty had fled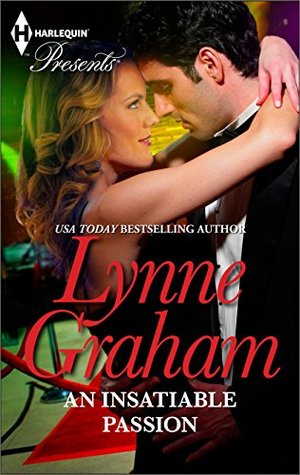 from home, away from the heartbreak Jake had caused her. Now, returning for her grandmother's funeral, she was determined to lay the ghosts of the past. After all, she had made a good life for herself as a well-known actress. So why was it that all her poise deserted her when she saw Jake again, still as attractive as before and infinitely more dangerous?
An Insatiable Passion  by Lynne Graham was a little different from Lynne Graham's works but in a good way. It was well written with likable characters, lots of angst and an enjoyable story line. It was a second chance romance of childhood sweethearts who separated because of some unfortunate circumstances but get a second shot at love when the heroine returns to her hometown,eight years later.
Kitty is a successful actor but she has not forgotten her humble upbringing and the heartache, Jake caused her. Jake is an alpha hero with a bossy attitude. It was a little bit difficult for me to like him because my sympathies were with Kitty. There are a ton of misunderstandings, angst and miscommunication in this story. Therefore prepare to be on a roller coaster ride with this one.
The romance was passionate and the characters have a very long past behind them so it made their connection even more believable. Overall, an enjoyable romance and a  must read for every Lynne Graham fan.
Book Info:

Published November 17th 2014 by Harlequin Presents
Introducing an emotionally powerful shared-past story in this exciting rerelease of USA TODAY bestselling author Lynne Graham's An Insatiable Passion!
As Kitty Colgan returns home for her beloved grandmother's funeral she is determined to lay the ghosts of her past to rest. Gone is the innocently naive young girl whose heart was broken so terribly by Jake Tarrant, and in her place stands an internationally renowned actress full of poise and grace.
But when face-to-face with Jake once more, the layers of cultivated sophistication drop away, for Jake is still incredibly attractive…and infinitely more dangerous.