What a hot and sexy read! Her Daring Mistake by Rhian Cahill is another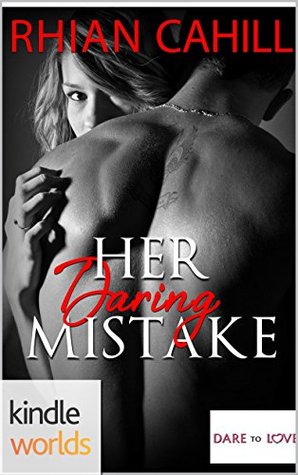 standalone story in the Dare to Love novella series created by author Carly Phillips for Kindle Worlds. Some of the characters and settings Ms. Phillips established in her Dare to Love books, make an appearance in this series. This novella is about financier Sadie Emerson and architect Alex Dean.
Sadie and Alex attended the same college in Florida, along with Alex Dare. Dean and Dare are not only good friends, they actually look alike as well. So much so that they can pass for brothers. Sadie was the team math tutor and at the time, and had a little crush on Alex Dare. Now years later, she is in a bar with her best friend Mel, enjoying some margaritas, as she looks forward to her new job and move to New York City. Sadie yearns for a single night with Dare, while Dean has always wanted Sadie in his bed. A case of mistaken identity and two nights of passion lead to a future to have and to hold.
Ms. Cahill nicely combines excitement, heat, and emotional innocence into this romantic novella. I loved the way the author evolved Sadie's character from a wallflower into a confident woman. I immediately connected with Sadie and Alex, and there was never a moment that I did not want them to be together.
The story is primarily about the development of their love, with little interfere from the outside world. They create a cocoon-like environment, while making each other very happy. Overall, Her Daring Mistake by Rhian Cahill is a solid read.
Book Info:

Published March 22nd 2015 by Kindle Worlds | Dare to Love
There's something familiar about the gorgeous woman across the crowded club. When he "accidentally" bumps into her, Alex Dean is shocked to discover what it is: The tall, leggy blonde is none other than Sadie Emerson, his college math tutor—and the subject of more fantasies than he could count. Years later, she's looking better than ever. He has to have her. Tonight. Immediately.
Does it really matter that she thinks she's going home with his buddy, Alex Dare?
Apparently it does. Because she sneaks away the morning after. Twice. First, when she discovers her mistake, then when she decides her upcoming more to New York makes them a two-day stand at best. But the sex is off-the-charts combustible, and Alex is already seeing stars, hearing bells…envisioning houses and picket fences and other things he'd never considered.
Now all he has to do is convince Sadie his feelings are real. His shy wallflower might consider him a daring mistake—but Alex has never been more certain.