In An Unlikely Daddy (Conrad County: The Next Generation #26) by Rachel Lee, ever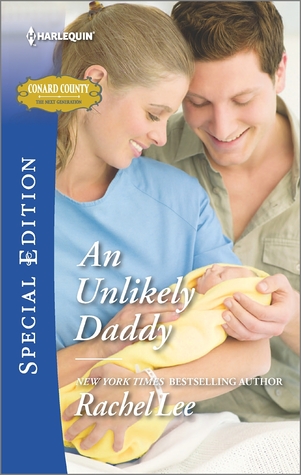 since losing her husband, Marisa Hayes has been struggling with her grief. No one has been able to pull her out of it until Ryker Tremaine; a gorgeous man determined to honor a promise he made to her husband comes into her life. However, she knows he's keeping things from her and she desperately wants to know the truth. But when it comes out, will it help her finally move on?
"Grief," she replied, "is totally selfish, as I've just begun to realize."
"It's also overwhelming. Cut yourself some slack."
She raised her gaze to his face. "How much slack do you cut yourself?"
He didn't answer, which she decided meant he didn't cut himself much slack. He was here, wasn't he? Keeping a sort-of promise he'd made to Johnny back when.
What a powerful and emotional story Ms. Lee has penned, encompassing a heroine buried in her grief, and a hero determined to keep the promise he made to his friend. The prologue opens this story well and sets the fast-pace of this story. Will Marisa be able to move on? Will she finally learn the truth of what really happened to her husband? However, it was the moment that Ryker and Marisa met each other that made this story riveting.
The dialogue was intense due to the main characters back stories, especially Ryker's. He knows many things about Marisa's late husband that he can't tell her, and I couldn't help but sympathize with his situation because she desperately wanted answers he couldn't give her. Moreover, I felt sorry for the heroine as well. Her husband was a serious adrenaline junkie when it came to his career, and there's nothing he wouldn't have done to protect his country. Even if it meant leaving her over and over again to do his job. Never wanting to give it up to be with her. Indeed, her late husband seemed a little selfish.
I really liked both Marisa and Ryker. Certainly, they had their struggles in regards to dealing with each other. At first, Marisa is hesitant to let him into her life, but Ryker is determined to honor his promise. Also, Marisa's best friend is a hoot. She isn't afraid to give her advice to Marisa about Ryker and she has no qualms about threatening Ryker when it comes to breaking her friend's heart.
Marisa is strong, brave and I liked that Ryker was the one to finally help her to heal; to move on. Because she couldn't keep wallowing in her misery; not when she had a child on the way. Really, Ryker needed her just as much as she needed him, as he's isolated himself from those he cares about, so that they remain safe. Even though, she realizes Ryker is so much like her husband, I'm glad that he did the complete opposite to the heroine's husband. That he was willing to put Marisa first before his job.
While Ryker, I didn't know what to think of him when he was first introduced to this story. He was an enigma, cloaked in secrecy and determined to keep his secrets close. Yet, I liked that he was willing to find Marisa some closure on what happened to her husband. Even if it was only a small margin of what really happened and why what happened to him needed to remain a closely guarded secret. But what I liked most of all was the hero's enthusiasm about things he missed in his life like Christmas.
"Dang, I'm getting excited."
"About Christmas?" She laughed again. "Still a kid inside?"
"I think the kid inside me has been locked away for too long."
Her face softened, and she surprised him by reaching across the table for his hand. "Then, let's let the kid out."
Overall, I really enjoyed this story that encompassed a heartwarming romance that will have readers cheering for this couple. Really, they both needed each other to finally move forward. Ryker needed to be absolved of his guilt while Marisa needed to finally stop grieving. The way this story ended was wonderful, as the heroine received some answers to her husband's death and the hero got everything he thought he couldn't have – love, family, happiness. I would recommend An Unlikely Daddy by Rachel Lee, if you enjoy stories about a couple blessed with miracles and desperately needing each other to be happy again.

Book Info:

Publication: July 19th, 2016 | Harlequin Special Edition| Conrad County: The Next Generation #26
In love with his best friend's wife…and baby
Keeping a promise to a dead man isn't easy. But Ryker Tremaine is determined to keep his word and make amends to his late friend's wife. When Ryker meets lovely, pregnant Marisa Hayes, she's still grieving. She doesn't believe the official report of her husband's death. And Marisa believes Ryker has the answers she craves.
Bound by secrecy, the hunky CIA operative tries to help Marisa find a sense of normalcy…and uncovers a sizzling attraction! As Ryker discovers the richness of life back on the grid, old secrets threaten. Marisa still seeks answers and Ryker knows if he tells her the truth about her husband's death—and his role in it—Marisa and her baby may be lost to him forever…