In Falling by Jane Green, Emma Montague spent years dreaming of one day heading to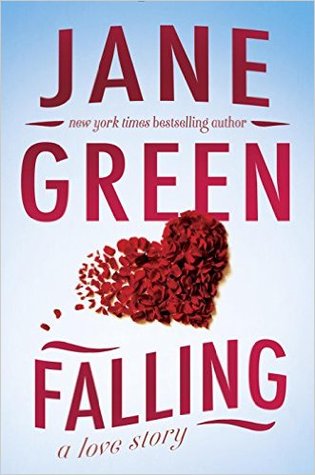 America. And after years of working in London in banking, she finally got her chance to move to New York City, away from her overbearing mother and her expectations. But Emma is sad to say that being caught up in the rat race of Manhattan, with the required designer duds and sky high heels, grew old fast. Ready for a change, she ends her career in banking and heads to the charming beachside community of Westport, Connecticut.
'There is something about Dominic. About all of this, that feels…right. From the moment he first put his hand on the small of her back, entirely innocently, a gentlemanly gesture to guide her through the garden gate, she felt she had come home.'
Emma enjoys now being so close to her good friend Sophie, who also lives in town. But she's cautious about how close she gets to her landlord and neighbor Dominic Di Franco. The handsome charmer seems to be sincere, but she's taken by surprise with how strongly she feels for him so quickly. Soon Emma realizes that the feeling is definitely mutual and she finds herself enmeshed in his daily life, even taking care of his six-year-old son Jesse, whom she adores. Just as life is looking up for the three of them, things are thrown into sudden turmoil and Emma is left to wonder if things will ever be under control again.
"I love you, Emma. There is no one in the world I want to be with more than you. You make me happy, and calm, and just…better. You make me a better person."
What. A. Story. Falling ended up being totally different than I honestly started off thinking it would be. And an hour after I've finished reading, I'm still not really sure what to think, other than Jane Green has yet again taken me on a roller coaster ride of emotions.
I will get this out of the way now: If you're expecting a straight up contemporary romance-type ending with a HEA full of hearts and flowers, nope. Not gonna happen. This is chick lit (women's fiction) so things don't follow the same pattern. But…things did work out in a raw, realistic manner, with sort of a HFN (happy for now) befitting today's modern world. And I will warn readers that the major change in Emma's world takes place in the last five percent of the book! So needless to say, my mind was still reeling after I was done reading this story, trying to sort through it all.
I am a fan of Jane Green's writing style and have been since I borrowed a friend's copy of Jemima J. I fell in love with her easy way of setting up a scene and the genuine, flawed characters she creates that makes me feel like it's someone I could know and be friends with. Thankfully I did still get that feeling with Emma, Dominic and their local crew. I truly liked our hero and heroine very much and thought they made a fantastic couple. I loved that they both felt like they had found 'home' with each other and that they were very tender and honest in their absolutely lovely relationship.
This was told mostly from Emma's POV, with a few moments seen from Dominic's as well here and there. It was nice to get both of their thoughts on the powerful love that took them by surprise. It might have seemed fast to some people, but I thought their connection seemed true. Dominic and Emma were looking for the same things and complemented each other personality-wise in the best of ways. Dominic's son Jesse was a bit of a challenge for Emma sometimes, as she hadn't spent much time with children. But I thought her heart was always in the right place and she did well by him.
Overall, I thought Falling was filled with heartfelt emotions and gave us a promising relationship between two deserving people. While there may have been some very heartbreaking moments, I think hope and love were what Jane Green wanted her readers to hang on to when this was over.
Book Info:

Publication: July 19th 2016 | Berkley |
The New York Times bestselling author of The Beach House, Jemima J, and Summer Secrets presents a novel about the pleasure and meaning of finding a home—and family—where you least expect them…
When Emma Montague left the strict confines of upper-crust British life for New York, she felt sure it would make her happy. Away from her parents and expectations, she felt liberated, throwing herself into Manhattan life replete with a high-paying job, a gorgeous apartment, and a string of successful boyfriends. But the cutthroat world of finance and relentless pursuit of more began to take its toll. This wasn't the life she wanted either.
On the move again, Emma settles in the picturesque waterfront town of Westport, Connecticut, a world apart from both England and Manhattan. It is here that she begins to confront what it is she really wants from her life. With no job, and knowing only one person in town, she channels her passion for creating beautiful spaces into remaking the dilapidated cottage she rents from Dominic, a local handyman who lives next door with his six-year-old son.
Unlike any man Emma has ever known, Dominic is confident, grounded, and committed to being present for his son whose mother fled shortly after he was born. They become friends, and slowly much more, as Emma finds herself feeling at home in a way she never has before.
But just as they start to imagine a life together as a family, fate intervenes in the most shocking of ways. For the first time, Emma has to stay and fight for what she loves, for the truth she has discovered about herself, or risk losing it all.
In a novel of changing seasons, shifting lives, and selfless love, a story unfolds—of one woman's far-reaching journey to discover who she is truly meant to be…