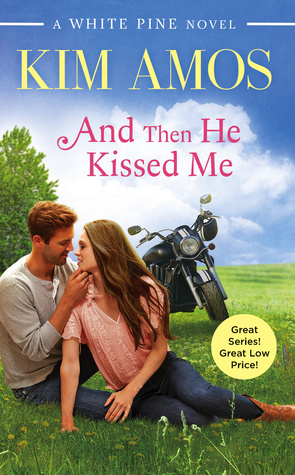 And Then He Kissed Me (White Pine #2) by Kim Amos is the second book in the White Pines series and it can be read a stand alone. Although I read the first book in the series and loved every minute of it, this book I think was even better than the last one. This is the story of Audrey and Kieran.
Five years ago Audrey and Kieran met at the White Pines Asparagus Festival and for 2 weeks they were wrapped up in each other. Audrey knew that Kieran was it for her and she thought that there lives together were just beginning. Until one morning she woke up to find an "I'm Sorry" post it note and Kieran riding away on his Harley. Fast forward, Audrey has lost her job as PE teacher and track coach, and she is now working in the White Pines Harley dealership, much to her surprise her new boss is the one man that she never thought to ever see again.
Kieran knew that riding away from Audrey was the biggest mistake of his life, but he was left with no choice. After gambling away the money for his mothers cancer treatment, he was forced to make a deal that cost him his happiness with Audrey and in the end his mom died anyway. Now back in White Pines, he wants to try to make up for the past. But in order to maybe have a shot with Audrey he will have to come clean about the past and it may cost him his one chance with the only woman that ever meant anything to him, the one woman that has changed his life for the better.
What I love about White Pines is the small town feel where everyone knows everyone and they stand by their friends. The Knots and Bolts gang is back with their Hot Dish and ready to go to battle for their friend Audrey. Kieran truly tries his best to make up for the mistakes of his past and my heart broke for him when he explained to Audrey what happened, why he left and what it cost him. His protective nature shines through and in the end I was cheering for these two to finally get their HEA. Great summer time read if you truly believe in a second chance at the love of a lifetime.

Book Info:

 Published July 28th 2015 | Forever | White Pine #2
PLAYING WITH FIRE…
Five years ago, Audrey Tanner flung caution to the wind and herself into the arms of an emerald-eyed bad boy biker she met at the White Pine Asparagus Festival. Two blissful weeks together convinced her that Kieran Callaghan was The One-until The One blew town without a word, leaving her brokenhearted. Now, starting a new job at the new Harley Davidson showroom, Audrey is floored to meet her new boss: Kieran. He's still hot as hell, but she won't fall for his sexy smile again. This time, she's calling the shots.
…OR PLAYING FOR KEEPS?
Kieran never thought he'd return to White Pine, Minnesota, much less see Audrey again. Gorgeous and smart as ever, she's just as irresistible as he remembered. She still doesn't know why he had to leave-or that he's missed her every day since. But he can't deny he wants more than the no-strings fling Audrey proposes. As things between them heat up, Kieran must choose between the secret he's sworn to keep and the woman he never stopped loving…