In Any Duchess Will Do by Tessa Dare, Life hasn't been easy for Pauline Simms. She lives with her parents and sister, Daniela, in Spindle Cove on their small farm. Pauline works as a serving girl in the local tavern and helps out at home, also taking care of Daniela, who is a bit slow. She's sick of the people in town talking about "those Simms girls" never getting anything right. All she really wants is to run a bookstore of her own and to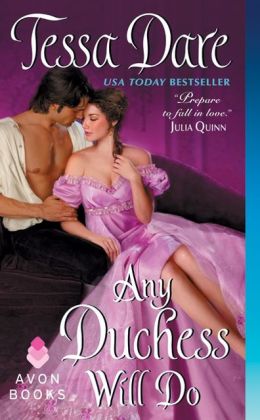 earn enough to make a comfortable living for her and her sister. One day she arrives a bit late to the tavern after a horrible morning when she notices a handsome nobleman and woman standing just inside the entrance. The dashing stranger stares straight into her eyes and says he is choosing her. Thinking the man must be joking, she goes along with the ruse when he explains that his mother, the Duchess of Halford, is forcing him to choose someone she can turn into a duchess so he can marry her. Griffon is tired of his mother's meddling ways so they agree that in the event that she is unable to turn the girl of his choice into a duchess in a week, she will leave him be. He offers Pauline one thousand pounds if she will fail miserably at his mother's teachings.
"This robustly handsome, self-possessed, wonderful-smelling man was the eighth Duke of Halford. Out of all the ladies in this room, he was choosing her, the serving girl. To be his future duchess."
Pauline leaves for London, figuring she will make enough money to open her bookshop so she can take care of herself and Daniela without her parents interfering. She finds the duke amusing and more than suitably handsome, but it also seems that he's hiding some sort of secret pain. It's quite obvious they both feel a mutual attraction and it only seems to grow stronger with time spent together and as they make appearances in society. Pauline becomes the talk of the town with everyone clamoring to learn more about the duchess-in-training. She feels pulled in two directions as she becomes closer to the duchess and Griffon. She learns why the duchess really wants her son to be married and she also earns Griffon's trust and confidence. Pauline wishes she had been born into the same circles as the duke so they could see what their relationship could become, but she knows she will never be accepted in his world.
"Oh, he liked this girl. He liked her a great deal. And that worried him intensely."
Griffon York, the duke of Halford, has changed his ways. He was once a man who spent more time at play, giving in to pleasures of gambling and women, then attending to business matters. After an event changed his life about a year ago, he decided to stay out of society, instead watching over his estates and working out his emotions through fencing matches. He's had enough when his mother takes him (under duress) to "Spinster Cove" to choose a wife. She makes the mistake of saying she can turn any woman into a duchess, so he decides to call her bluff and choose the least likely candidate he can find. And such a girl literally stumbles into the tavern. Pauline is perfect for his bet with the duchess. He doesn't realize that she truly is perfect for him until it is too late. He finds her oddly attractive and loves her spunk. She has a kind heart but is not afraid to stand up for herself and those who need a helping hand. Although he begins their week together reminding Pauline that she needs to fail at her mission to achieve her pay, Griffon can't help but wish she will succeed in society's eyes, so she can believe in herself the way he does. He finds himself opening up to her and confiding past events that he hasn't told anyone before, knowing she will not judge him or break his trust. Griffon wants to make Pauline an offer to stay with him for good but he's not sure if he will ever be ready to marry.
I really enjoyed this story written by Tessa Dare. She has a way of bringing humor into situations to lighten the mood without losing the intensity of the emotions. And the bantering between the characters is at times hysterical and other times so raw with love it's breathtaking. I found Pauline to be a strong, smart, fiercely loyal character who was finding her way in the world. She had such a rough life at home that it was wonderful to see her getting pampered and taken care of herself for a change. Griffon was such an interesting character as well. He acted like you think a duke should, but beneath that aristocratic exterior was a man who was broken and looking to finally find peace in his life. I highly recommend this novel if you enjoy historical romance with witty banter and hot love scenes.
Book Info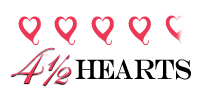 Publisher: Avon Release date: May 28, 2013 | Series: Spindle Cove
What's a duke to do, when the girl who's perfectly wrong becomes the woman he can't live without?
Griffin York, the Duke of Halford, has no desire to wed this season–or any season–but his diabolical mother abducts him to "Spinster Cove" and insists he select a bride from the ladies in residence. Griff decides to teach her a lesson that will end the marriage debate forever. He chooses the serving girl.
Overworked and struggling, Pauline Simms doesn't dream about dukes. All she wants is to hang up her barmaid apron and open a bookshop. That dream becomes a possibility when an arrogant, sinfully attractive duke offers her a small fortune for a week's employment. Her duties are simple: submit to his mother's "duchess training"… and fail miserably.
But in London, Pauline isn't a miserable failure. She's a brave, quick-witted, beguiling failure–a woman who ignites Griff's desire and soothes the darkness in his soul. Keeping Pauline by his side won't be easy. Even if Society could accept a serving girl duchess–can a roguish duke convince a serving girl to trust him with her heart?