Once is Never Enough by Mira Lyn Kelly: When her BFF, Maeve tells Nicole she needs to get back out in the dating pool, she isn't convinced. Then when she jokes about setting her up with her brother – "The Panty Whisperer", Nikki is horrified. But her reservations fly out the window when she sees the blue-eyed stranger at a party.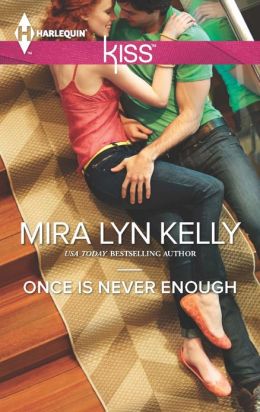 Garrett's attracted to her right off the bat, but it seems like more than his normal love 'em and leave 'em routine. Her flashing eyes and infectious laugh want to pull him in. Refreshingly, there's no artifice. She's not looking to get her claws into him. In fact, she doesn't even care that she doesn't know his name. He's "Blue Eyes", and she's "Red". They barely make it through the door at her place before they're pulling at each other's clothes.
Fate has something else in mind though. They're *well* on their way to nirvana when he sees a picture of… well, himself – on the shelf. Okay, it's not just him, it's a picture of him and his sisters. He overheard her name at the party, and that helps to put things together. Nicole is actually "Nikki", his sister's best friend. And Garrett has a rule about that – his sister's girlfriends are strictly off-limits.
Nicole is horrified to find out that the man she fell off the wagon for is Garrett Carter. It's almost like the world is mocking her. Maeve was just joking about this very thing, and here she was – letting him 'whisper' her. Ironically enough, it was Maeve's voice she heard in her head telling her to go for it.
A few awkward run-ins later, and they decide neither of them want to resist the attraction. She needs to date someone who won't promise her forever and bail – and he needs more than just a hook-up. They both want a finite relationship that will morph into a true friendship. Nicole has lost too many people through bad breakups – she won't allow Garrett to come between Maeve and herself.
What neither of them count on is how their friendship could so easily be so much more. Garrett doesn't want forever, and Nicole is starting to want it despite herself. So she initiates the break. But life has other plans for the two of them…
I think I'm well and truly addicted to Harlequin's KISS line. I'm not alone either – in her forward, Mira Lyn Kelly admits to the same. I just finished "Once is Never Enough", and Mira's a big part of my new fixation.
I gotta say – Wow. Reading the description made me think this would be all flirts and giggles, but that's just not true. Yes, it's funny and sweet, but Nicole and Garrett are such layered characters, I couldn't help but connect to them. Neither of them fall into the standard mold. It was a refreshing and honest story, one that I would definitely want to revisit later on. That puts this book in a very selective category – and it's well earned.
Book Info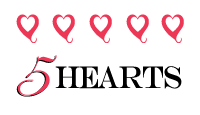 Publication Date: June 18, 2013 | Series: Harlequin Kiss (Book 22)
She's going to do this. She's really going to do this!
Nichole Daniels has had her share of heartbreak. Two broken engagements and a single bed are proof of that. But when a blue-eyed stranger offers her a taste of her every nighttime fantasy, she's considering putting an end to her dry spell!
Garrett Carter's reputation as a ladies' man…? Absolutely right. A danger to her mental health…? Definitely. The man for her…? Not on your life. Nichole has no intention of getting involved with a man known to be able to whisper almost any woman into bed! But something tells her that, when it comes to Garrett, one night will never be enough….