Stealing Kisses in the Snow (Rendezvous Falls #2) by Jo McNally: Interested in seeing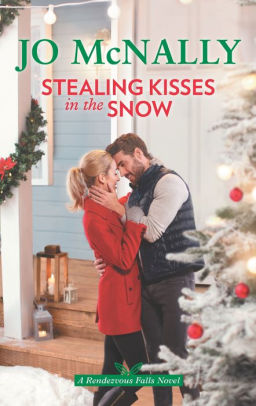 Victorian houses known as the Painted Ladies, visiting the Taggart Inn and meeting some delightful people? Then you will like your trip to Rendezvous Falls.
His grandmother, Iris Taggart has fallen and broken her hip. She needs help with her Bed & Breakfast, the Taggart Inn while she recouperates and does her physical therapy. Logan Taggart drew the short straw so his sister gets to stay home while he gets to make the trip to help out his grandmother. He first meets Piper Montgomery after he runs into her adorable four-year-old daughter Lily in his grandmother's suite in the inn. She leads the "giant monster" she found to her mother in the kitchen of the inn.
At first Piper didn't know what to make of this dirty, scruffy giant of a man clad in motorcycle leathers holding her daughter's hand. This was Iris' grandson? Not at all what Piper expected. He's just so big and "hot!" As Piper and Logan get to know each other better and the attraction between them grows they find themselves falling for each other. But can a single mom with two kids be able to bring this man into her happy family? Can this man who never stays in any one place for long put down roots?
I know I am going to really enjoy a book when I am smiling from the very first pages. Stealing Kisses in the Snow by Jo McNally had me smiling a lot as I read. Ms. McNally's characters are so genuine and likeable. Little Lily is super cute and sweet and brings smiles to the faces of everyone she comes in contact with while her thirteen-year-old brother Ethan exudes teen angst and "leave me alone" vibes. Iris Taggart's book club fails again with their matchmaking. Piper and Logan just have to find their HEA in their own good time and through ups and downs. A truly delightful read!

Book Info:

Publication: October 29th 2019 | HQN Books | Rendezvous Falls #2
It's Christmas in Rendezvous Falls and love's waiting to be unwrapped…
Single mom Piper Montgomery's plate is full. Between her two adorable kids, two jobs and a fixer-upper house, she's so busy she can hardly see straight. But when rugged biker Logan Taggart strolls into the inn where she's working, she can't help but stare. He has bad boy written all over him. And with two kids relying on her, that's the last thing she needs this Christmas.
Rendezvous Falls is nothing but a pit stop for Logan. Once his grandmother is back on her feet and ready to reclaim the inn, Logan can get back on the road. It's where he belongs, even if his grandmother's matchmaking book club try to convince him otherwise. Still, there's something about beautiful spitfire Piper that makes him wonder if family and forever might just be what he needs after all.
But as the holidays draw ever closer, so do Piper and Logan. Could these polar opposites find that all they want this Christmas is each other?