Brace yourself with a decent napkin on your lap and hook into Anything but Easy by Susie Tate with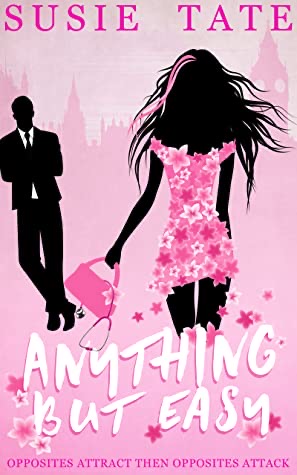 joyful abandon, because this little cracker is spirited, juicy, and has a little dash of Love Actually meets Brigit Jones' Diary sprinkled in for good measure.
Kira, the adorable whirlwind of a Sexual Health Doctor is simply loveable and hilarious from the first 2 pages of the book. From the onset, it is clear that she is an untameable life force who cares deeply about others and will do anything it takes to support people on their journey. Interestingly enough, despite her lunatic fringe hippy-esque demeanour, she finds herself crushing hard on Barclay Lucas, a conservative Tory MP who believes firmly in environmental policy as key to a better country.
Whilst both of our hero's have the same general mission and personal goals in mind – making the world a better place for everyone, you could hardly find more opposing characters and inevitably, lovers. Opposites clearly do attract in this little ditty. But of course, not everything is smooth sailing and nothing with these sorts of social cultural oppositions will come easy – certainly not relationships and certainly not when it always means one partner will inevitably have to change some significant part of themeselves and who they are to fit into the others' world. And of course, given his high profile political stakes, it inevitably means that delightful Kira, who literally lights up rooms, is the one that has to dull herself down. And this comes at a painful price for everyone she graces.
Tate, quite tactfully addresses the strange standards we have in society when one group of people judge another, and it is interesting that within her commentary is the firm belief that conservative values are the ones we always seem to uphold, when in fact, it should be the exact opposite as is realized throughout. Even from a media perspective, people crave liberal self-expression, seeing people care and love one another and yet, why is it we seem to navigate towards robot style politics that serve no one in the end?
These questions and more are the ones Barclay finds himself addressing as he struggles to come to terms with what actually gives his life joy and purpose. Quite effectively, Anything but Easy holds a giant spotlight on the fact that everything we love should be worth fighting for, whether it be our environment, our living standards, or quite simply and beautifully each other for a more healthier us. With it's easy flowing character chapters, we see insight into both Kira and Barclay's world, two very different worlds granted, but garner a deep understanding of what it takes to really make a difference.
I highly recommend, everyone takes 3-4 hours out of their schedule, however busy, however necessary and chew a little on this one. Not only was it anything but easy to put down but an effective reminder that we shouldn't change who we are or conform to a social norm when being ourselves is often the most powerful thing of all. A true Happily Ever After that will fill you up like a delicious home-cooked meal.
Book Info:

Publication: September 13 2020 | Amazon |
Kira Murphy is a liability: always has been. She might be small but her personality and heart are not: a sexual health doctor with a foul mouth, pink streaks in her hair, a bizarre world view, a reputation for being 'pathologically social', and a huge crush on the current Minister of State for Business, Energy and Clean Growth . . . she's weird and lovable in equal measure.
The last thing Barclay Lucas needs is a liability. He's made it into the cabinet with single-minded determination, sheer grit, and serious conservatism. But then a crazy, pink-haired, tiny dynamo turns his life upside-down and serious for Barclay is a thing of the past.
But he's never liked feeling out of control – something he experiences with Kira on a daily basis. So he pushes her away when she needs him the most, and unfortunately for him she retreats at head-spinning speed. It's only then he realizes that although being with Kira is anything but easy, the grey, boring alternative is far worse. He'll have to use all his hard-earned political negotiating and maneuvering skills to get her back. Because after being dragged from black and white into full Technicolor with Kira, Barclay knows that, however serious and worthy his life is, he can't live it without her.