In Armed 'n' Ready (Federal K-9 #2) by Tee O'Fallon, Police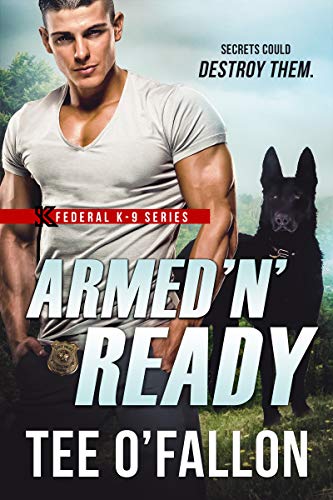 Sergeant Nick Houston is determined to bring down an illegal gun dealer. However, he needs Andi Hardt's help if he has any chance of success because she's his best lead. Too bad she isn't the most co-operative woman. But if she needs some motivation, he's determined to give her some – help him or lose everything she's worked so hard for. Will Nick be able to keep Andi safe if she is able to help him solve his case?
"Call me Andi." She cleared her throat, focusing on his eyes, which were softer than gunmetal gray, her original assessment. More like sterling silver with a touch of blue. Blue steel. "After all, since I'm still a suspect there may be silver bracelets in my future, and I like to be on a first-name basis with any man who gives me jewelry."
His lips twitched. Full, sensual lips. And was that a glimmer of humor twinkling in his eyes. Couldn't be. She must have imagined it.
Romantic suspense is my go-to sub-genre of romance and I can always count on Ms. O'Fallon to write a story that will entertain me from start to finish and this book is her best book yet. The way this story started had me liking the heroine immediately, as she's doing everything she can to make a success of the new direction she's taken in her life. Will her dog café be a hit? However, it was from the moment the hero and heroine come face-to-face for the first time where this story really takes off, as the heroine finds herself in an impossible situation – either she helps Nick or she could lose everything she's worked so hard for.
As for the dialogue, it was highly entertaining and a wonderful combination of intense moments because of the main characters back stories and the suspense that kept me on the edge-of-my-seat; and playful banter that had me absolutely loving the growing relationship between this couple. Furthermore, the main characters were relatable and likeable and completely fascinating due to their back stories and the challenges they face to be together. Such as whether the hero and heroine can trust each other and whether they can uncover the identity of the person Nick is looking for. Will they discover the identity of the illegal gun dealer Nick is after?
"The way you handled him was unnecessary and bad for business."
"The a**hole had it coming." Nick leaned back against the door, crossing his arms, drawing her attention to his thick biceps. "Trust me, once guys like him think they can get away with forcing themselves on a woman, they'll never stop."
She sighed. "I don't disagree with you on that, but we're not on the street, and you're not here to police the place. This is exactly what I was afraid of, that you'd scare customers away with your storm-trooper attitude."
With the heroine, she's resilient, courageous, feisty and I liked how much of a challenge she provides the hero, as she does her best to help him with his investigation. Since she's worked so hard to own her new business and make it profitable and she's not about to let anyone destroy what she's worked so hard for. I also liked the growing bond between the heroine and the hero's K-9 dog; a dog that will do anything to keep the heroine safe. While the hero, he's driven in his desire to take down the illegal drug dealer after what happened in his past, which is understandable considering what happened to someone that should have had their entire life ahead of them. He's also resilient; determined to protect the heroine; and I liked the close friendships he shares with other law enforcement officers that are determined to help him anyway they can, especially when it comes to keeping Andi safe.
Overall, Ms. O'Fallon has delivered a wonderfully-crafted, fast-paced, enthralling read in this book where the chemistry between this couple was strong and convincing; the romance was nicely-detailed and passionate; and the ending had me concerned for the main characters, but had me crying happy tears because of how things work out for the hero and heroine, especially after what happens to one of the main characters. However, it was the epilogue that wrapped this story up wonderfully and had me smiling long after I finished this book because of how happy the hero and heroine are together and how much they have to look forward to for their future. I would recommend Armed 'n' Ready by Tee O'Fallon, if you enjoy romantic suspense, the enemy to lovers trope, or books by authors Laura Griffin, Kris Rafferty, Kathleen Mix and Anita Devito.
Book Info:

Publication: February 25th, 2019 | Entangled Publishing | Federal K-9 #2
Massachusetts State Police Sgt. Nick Houston is as tough as they come, and he and his K-9, Saxon, are hot on the trail of a major illegal gun dealer. But his best lead—the beautiful owner of the Dog Park Café, Andi Hardt––is not cooperating. Doesn't matter how sexy she is, or that his dog seems to be in love with her. She's a suspect and he won't cross that line. Ever.
Andi Hardt sank everything into her dream business—the Dog Park Café, a restaurant catering to dogs as much as people. Now everything is in jeopardy because of one extremely frustrating, incredibly hot state trooper. Like it or not, she's in Nick's crosshairs, and he's calling the shots. Her only option: cooperate, or lose everything she's worked so hard for.
Nick and Andi are catapulted straight into the danger zone, forcing them to make life-altering choices, and face their desires. Risking his life for Andi is the easy part. Risking his heart is the toughest assignment Nick will face.